Opinions On The Best Planters On The Market
If you want to give life to your home with beautiful ornamental and floral plants, it is best to buy planters to make your own garden. We know that there are many options on the market, so we present our selection of the best planters for 2022, so you can choose the one that best suits you.
Hanging Planter 
Giovanna 10 Pieces
A good decoration alternative for a balcony or terrace is a hanging planter because with this model you can place your plants on the bars or walls so that they stand out with their interesting colors and aromas.
With the 10-piece set from the Giovara brand, it will be easy for you to hang your favorite plants on the balcony, because it has a practical removable hook that makes work easier, so if you are looking for cheap planters, this lot will most likely meet your expectations. In fact, it is close to being the best value-for-money planter today.
These pots have been made from quality brass and are painted in bright fun colors, so you don't have to do any extra work to use them as they are ready to put in the substrate and grow the plant. Something that makes them ideal is flower pots for balconies, terraces, or even if you want a flower pot for a railing.
When in doubt about which planter to buy, we present this model that will probably serve to dissipate them and with which you can decorate your garden. Next, we summarize its most outstanding characteristics.
Hanging: These planters offer hanging hooks that facilitate the process of placing plants on the balcony efficiently.
Material: The structure of each exterior wall planter is made of metal, and is resistant and durable. So they will last you for many years.
Dimensions: Each of these planters has dimensions of 10 cm wide at the top and 8 cm for the lower area, with a height of 10 cm.
Colors: The set comes in varied and attractive colors for a very cheerful decoration, ideal if you are looking for original and fun planters.
Drainage: The holes for water drainage are very small, so you must be careful when watering your plants so that they do not wither from excess liquid.
Wooden Planter 
Catral 31090008
The square format pine planter offered by the Catral brand is suitable for decorating outdoor spaces with a country and rustic style, thanks to its natural wood texture.
In addition, due to its large dimensions of 40 x 40 centimeters, this model is suitable for large plants, so it needs enough space in the room where you plan to place it, being recommended as the best planter, according to customer opinions. satisfied.
This wooden planter has a treatment to protect the pine from inclement weather so that it can be durable and resist the sun's rays or the effects of rain. Something typical of a quality outdoor planter.
Catral is a company dedicated to gardening products since 1928, which is why many consider it has won the market as the best brand of planters. So let's see the positive and negative aspects of this planter made by Catral.
Design: This large outdoor planter is designed in a square planter format that adapts to outdoor spaces.
Wood: It is made of good quality pine wood, with a protective treatment against mold and the effects of weather.
Functionality: Being a large planter, it is very useful for organizing the garden and decorating with large plants.
Dimensions: It has large dimensions of 40 x 40 cm, so it could be the appropriate option for large plants.
Touch-up: Unlike outdoor planters made of other materials, being made of wood requires continuous touch-ups of some protective treatment so that it does not deteriorate.
Large Planter 
Keter Taper
It is a large planter, which has been made of plastic resistant to atmospheric conditions, so it can be used both indoors and outdoors. Therefore, it is useful for planting medium-sized plants in entrances, terraces, balconies, and gardens, among other areas of the house.
For ease of use, this large indoor planter comes with 14 markings on the base that allow you to drill holes for drainage. In this sense, you can decide how many holes to make depending on the need. In addition, it has four legs that keep all the water outlets separated from the ground.
In terms of appearance, this planter with legs has a conical cube-shaped design, where the base is smaller than the top. In this case, it measures 40 cm high, 31 cm at the base, and 38 cm at the top. Likewise, it offers an attractive textured finish that imitates wood, although it could be classified as a black planter, due to its tone.
If you want to grow a medium-sized plant, then you need a large enough pot, as is the case with the Keter Taper.
Capacity: It has a maximum capacity of 44 liters, which represents an advantage over other planters.
Drainage: Bring 14 marks to drill with a drill or simply with a knife. In this way, it is possible to create drainage adapted to the type of plant.
Design: It is a dark gray conical cube and has a finish that resembles the texture of wood.
Plate: This model does not have a plate to capture the irrigation water, which implies an additional expense.
Tall Planter 
Unbekannt Urbi
If what you need is a tall planter that allows you to access the plant comfortably and that offers a nice design, then you should consider this model. It has a height of 50 cm and is made of resistant plastic, so you can use it indoors and outdoors.
This tall outdoor planter is made up of two pieces. First of all, a small pot goes inside the big one and measures 26 x 24 x 20 cm. In this one goes the earth and the plant, so it has handles and is removable for greater practicality, which always comes in handy when it comes to large planters.
On the other hand, there is the decorative outdoor planter, which is shaped like a conical cube, where the base measures 20 cm and the upper part is 26 cm long. The latter is available in anthracite and white, so you can choose the most convenient according to the decoration of the place.
To improve the appearance of a specific area of ​​the house, a good idea is to acquire a tall planter, since it can add elegance to the environment.
Reading Suggestion: How To Decorate A Functional Dining Room
Size: It has a height of 50 cm, so the plant is quite high off the ground, giving an appearance of lightness and freshness.
Capacity: It has a maximum capacity of 26.6 liters, so you can plant plants of different sizes.
Design: It offers an elegant tapered cube design that is available in anthracite and white.
Container: The inner container where the soil and the plant go is much smaller compared to the general dimensions of the pot.
Wicker Planter 
Social 150827
If you like wicker baskets, this Sodial model may be for you. It is a planter made in the shape of a basket with seaweed, an authentic, quality, and durable material. In addition, it is one of the cheap models that we have in this selection.
This wicker planter has multiple functionalities because thanks to its flexibility it can be used as a laundry basket, to store quilts, and toys, or also as a planter in the decoration of your home. On the other hand, this decorative indoor planter has a rounded design, with dimensions of 22 cm high x 20 cm wide, and has two practical handles, so you can transport it comfortably.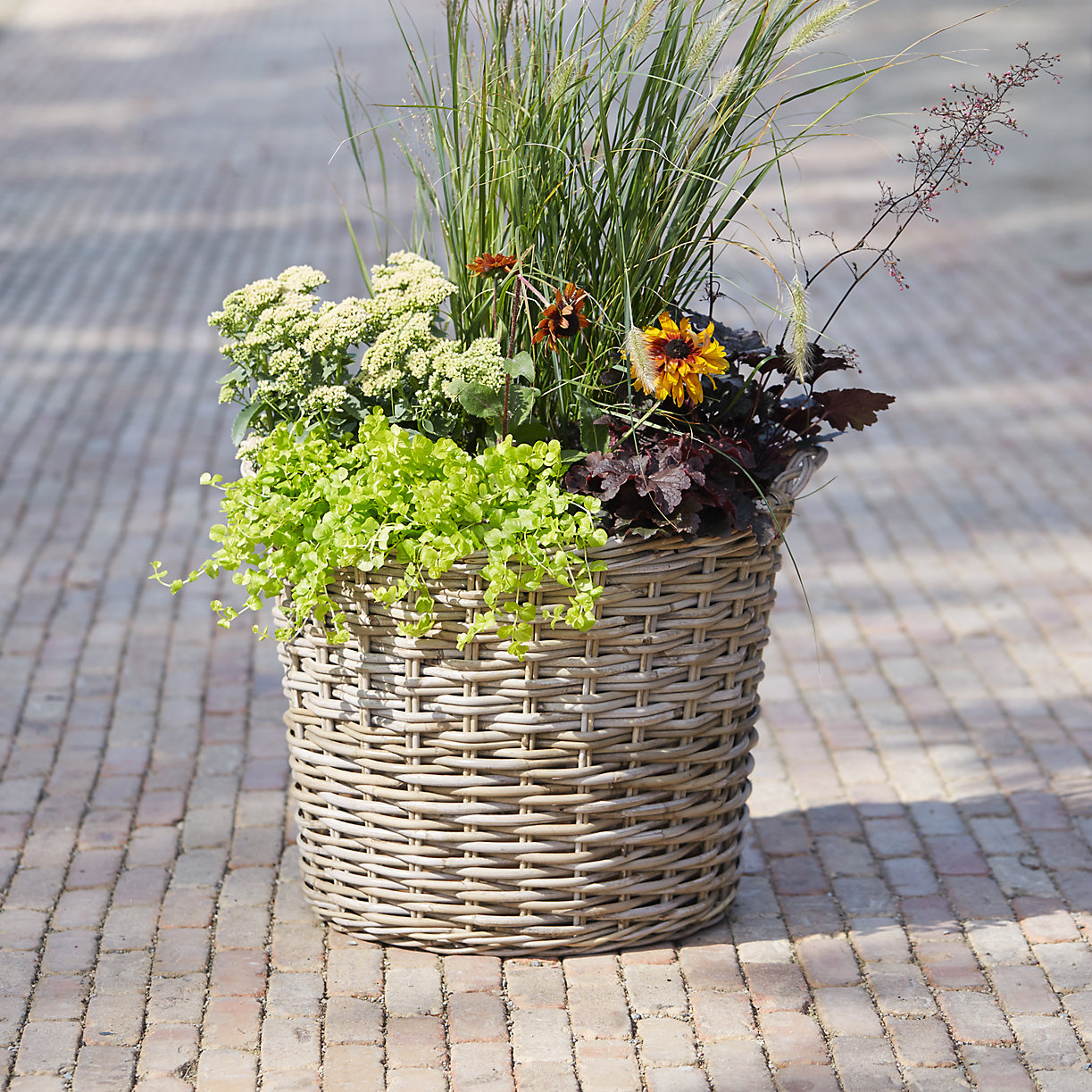 We are talking about one of the cheapest models in this selection, but with good quality in its manufacture and that can be used in different household tasks. Here are its pros and cons.
Multifunctional: This model stands out because it can be used in different ways, so it is multifunctional since it can be a flowerpot, a laundry basket, or store toys.
Seaweed: Quality seaweed was used for its artisanal production, being a product that respects the environment.
Color: Unlike other indoor pots, this product does not contain any colorants or chemical additives, so it comes in a very nice natural color.
Price: Its low cost allows you to buy several and make them useful in your garden, designing a beautiful and very natural style.
Flexible: Because it is a flexible material, it could happen that the basket suffers some deformations, but it is normal because it is a handmade product.
Frequently Asked Questions
Q1: How To Use A Flower Pot?
Planters are useful containers used to give a touch of green to the spaces around us, they allow us to maintain contact with nature and provide a decorative effect that is pleasing to our eyes.
Its main function is to keep the cultivated plant in good condition, so we must select the pot that best suits it and allows it to grow efficiently. The planters can be used on the terrace, on the balcony, hanging on the wall, or on a shelf or table, according to our decoration needs.
Q2: How To Make A Large Cement Planter?
Planters made of cement are much more resistant than those made of clay or plastic, they better withstand inclement weather and will last you for years. They are very easy to make and do not require many materials.
For the elaboration, you need cement, water, a container, and a spoon to make the mixture, two molds, a large one that serves as an external guide, as well as another smaller mold that will be the internal part of the pot, which can be square. round or rectangular according to your preferences.
After preparing the mixture according to the product's instructions, moisten the surface of the mold and start placing the cement as if you were flouring a container for baking cakes, all over the mold including the base that will be the bottom of the pot. Now, place the smaller mold and pour the cement little by little to fill all the sides.
Let it dry for approximately 24 hours and when it is completely dry you can carefully unmold it. Remember to make a hole in the bottom to serve as drainage, for this, you can use a drill or a thick nail.
Q3: How To Paint A Clay Pot?
To paint a clay pot you need an object that serves as a support for the container, exterior enamel of the color of your choice, and material to cover the table where you will work or for the floor so that you can protect them from paint stains, brush and some sealer for finishing.
If you are going to paint it with several colors, you should wait for each one to dry separately before applying the other. You can decorate them with the figures you want, but keep in mind that since they are clay pots, you must place them in the sun for the drying process and wait a considerable time, which depending on the size of the container could take hours or days.
Q4: How To Decorate A Flower Pot?
The planter can be decorated in many ways, from figures of animals, stripes, flowers, circles, or combinations of colors and geometric shapes. With a pencil you can make the desired drawing, tracing the image on paper and you can play with the lines in different directions, taking advantage of the texture of the pot.
For example, if the container is made of clay, you could decorate it all in gold as a base and make some triangular lines with white for contrast, it will look elegant on any corner of the balcony or terrace.
Q5: How To Make A Hanging Flower Pot?
If you like crafts, you can make a pendant for flowerpots in a simple way and using different materials, since plants that hang in beautiful flowerpots look very attractive and are perfect for taking advantage of the air spaces in the garden or on the balcony.
Macrame is an interesting alternative to hanging a planter and with this technique, you could take advantage of a vi shirt. Just cut it into strips and start making braids with knots all over the fabric, so you will have a hanger ready for your planter.