A tiny home doesn't have to be an unappealing space or feel uncomfortable. For those who have to combine the living room and dining room in the same room, there are several options that can make this room cozy and practical.
It is increasingly common for houses to be distributed over a few square meters. Due to the limited dimensions, the living room and dining room have to share a small area, while still fulfilling their main functions. However, this situation is not as negative as one might think.
In fact, choosing the right elements can do wonders on a small surface. Especially if you take into account some tips that will allow you to correctly distribute the design and make it functional. Next, we will give you some ideas that will allow you to enjoy a harmonious and pleasant environment in a dining room that is together.
Create An Open Space Dining Room
The screens or curtains can separate environments in a very effective way, allowing them to give way to completely different environments in terms of decoration. However, resorting to these elements is not the best idea when the space is small.
When decorating a living room and dining room together, it is better to take the entire room as one and decorate it as an open space that allows the functional coexistence of those who live in that home.
Now, the distribution of furniture plays an important role. The fact that the room is small does not mean that each section cannot have its own essence. To give privacy to the room, a good strategy is to place a sofa with its back in the dining room. In this way, you will create an imaginary division that will make it cozy and independent. In addition, this distribution will allow you to focus the attention of those who are seated on the decorative elements that will be typical of the room, such as a unique coffee table or a beautiful vase.
Use The Same Style Of Furniture
There is no written rule to choose the furniture for the dining room and the room, but it is preferable that there is harmony between them. The fact of combining colors, shapes, and textures will give homogeneity to the place and in this way, when observing them and living in the place, they will provide a sensation of harmony that is very pleasant.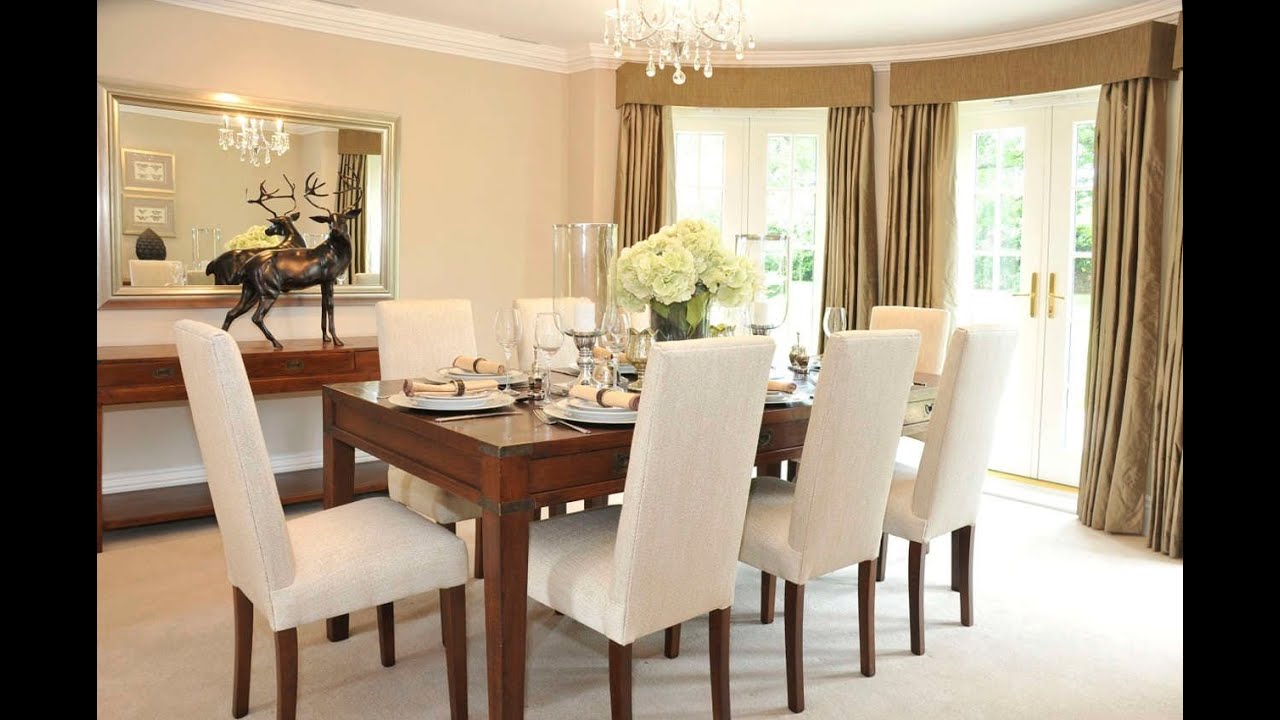 If you lack options, do not worry, today it is very easy to take a look at the furniture trends that predominate in the market and find pieces that combine perfectly with each other. It is about achieving balance when selecting the same style of furniture.
Neutral Colors 
If you want the dining room to appear larger than it is, we invite you to select furniture in neutral colors. These tones by reflecting light create a feeling of a larger space. If you combine them with light-colored walls, the set will be fresh and pleasant, with an optical effect of amplitude that will be a success.
For the price, you do not have to worry too much since on the Internet you can find options for cheap dining chairs and dining rooms at an affordable price in these types of colors since they are considered very versatile because they combine easily.
Now, if you want to add a touch of color, you can add some decorative detail in other more vivid tones, but the spaciousness effect will remain intact.
Reading Suggestions: Solutions For Small Kitchens 2022
Avoid Going Overboard With Ornamentation
Rarely does it work to introduce too many decorative elements in a small space. Therefore, in a living room and dining room together, it is better to choose furniture that is functional and reduces the number of objects that will always remain in sight.
This will not only help make your cleaning sessions easier because the dust will not settle on many objects that you will have to shake, but it will also relax your eyes and transmit tranquility, combining perfectly with the need to give more space.
In this sense, modular designs with doors allow most of the objects to be stored, leaving only a few visible to give them prominence.
For example, if you have a lot of movies, video game titles, and some music discs, it's best to find a piece of furniture that keeps them stored.
Luckily, there are plenty of tv cabinets online that could match your preferences and help you organize your dining room.
Take Care Of The Lighting 
Since you have chosen the right furniture and in the colors that favor creating the feeling of spaciousness, do not forget the lighting. Light is essential to create favorable sensations in those who visit your home.
Thus, when it comes to small areas of the house, they must have enough light to give them more balance. In this case, pendant lamps are the best choice, because they do not take up space, they are very decorative and when they include more than one bulb they become a source of light that, when reflected on light furniture, will create more space.
Accessories For Dining Room
If after having chosen the furniture carefully, you still feel that you need to define the areas, you can decorate the living room and dining room with a decorative rug. This will be a perfect complement to put under the coffee table in the living room or in the dining room. In this way, without interposing walls, you can create different environments.
To create a greater feeling of spaciousness, use large rugs, which protrude a little from the dining area or the coffee table in the room.