The 5 Best Facial Cleansing Machines – Opinions 2023
Facial cleaning with a machine is an excellent way to gain health and beauty on your face without problems. And since there is no better way to choose a good product than by comparing, we have selected those with the best qualities among the options on the market and we provide you with a summary of them so that you can get to know them. Probably among our products you will find the machine you are looking for to take care of your skin. 
1. Sunmay Oval Sonic Facial Cleanser
Among the best cleaning machines of 2022, there are many options to choose from. One of them is the Sunmay MF-Oval-PK, which stands out for its dual functionality. On the one hand, we are talking about a product designed to clean your face, which includes two practical silicone brushes.
On the other, it literally consists of two metal heads with the ability to generate ions, which are responsible for toning the skin. These also offer a very pleasant heat, 42 degrees to be exact, which increases blood circulation and facilitates the absorption of any cream.
The result is that this deep facial cleansing machine offers beauty salon results without having to leave home, in a practical and very easy-to-use approach. In addition, it has 8 different modes of use and vibrates up to 12,000 times per minute, at the level of a professional facial cleansing machine.
Enjoying a quality facial routine is easy with solutions like this one, which we discuss below.
Speed: The machine vibrates up to 12,000 times per minute, for intense cleaning.
Brushes: The two silicone brushes remove any remaining dirt with solvency.
Modes: Its 8 modes of use allow you to choose the most suitable according to your needs.
Ions: These ions regenerate the skin and improve its general appearance with solvency.
Timer: This notifies you when it is time to change the zone, so as not to overdo cleaning.
Charger: The connection for charging could be improved, due to its location and operation.
2. Foreo Luna Mini 2 Facial Cleanser With Anti-Aging Mode
If we are looking for the best facial cleansing machine of the moment, the Luna mini 2 model could well deserve such an honor, since it is the result of including several design improvements to its already well-valued previous model.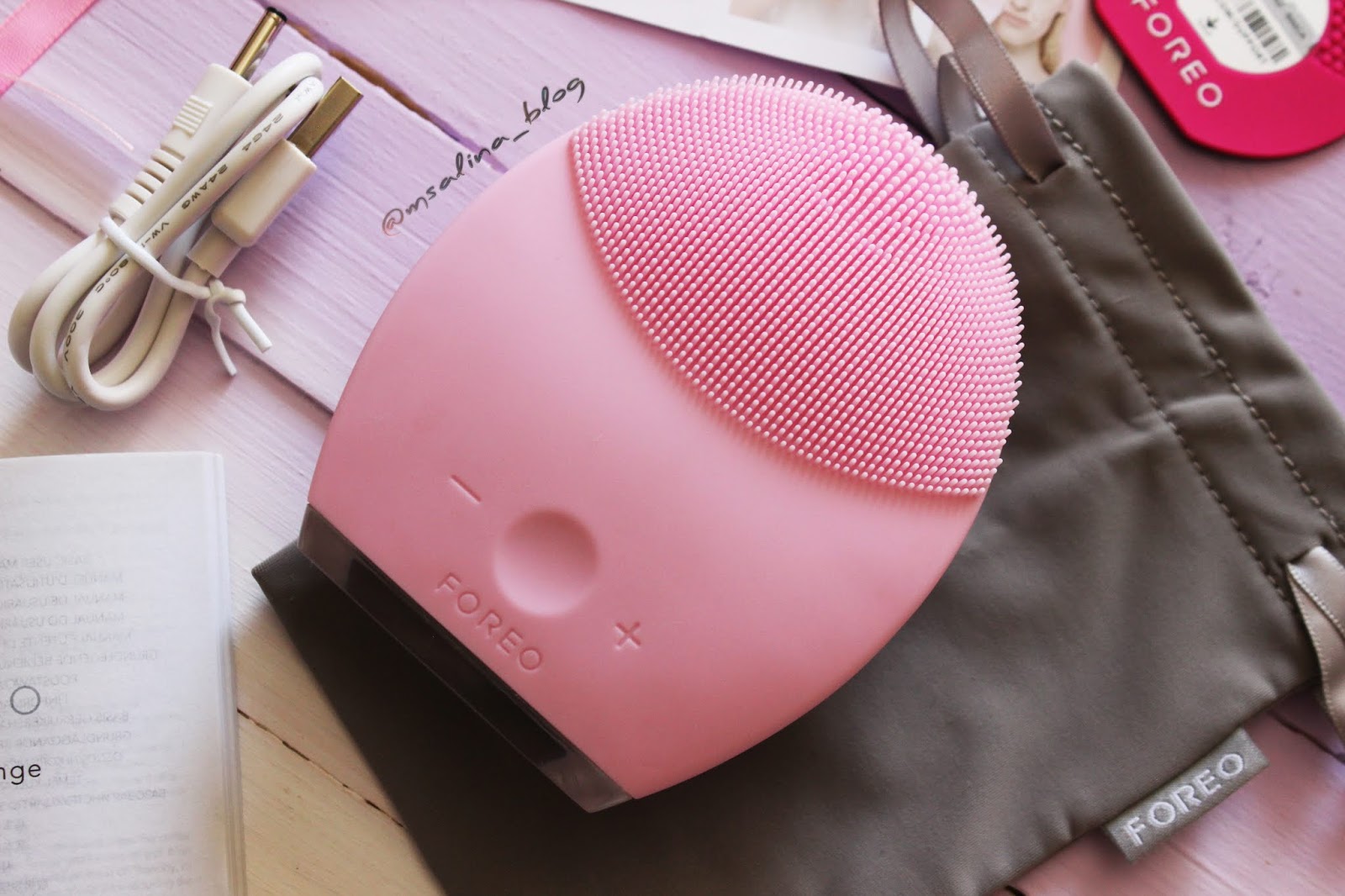 This facial machine consists of a compact brush with soft silicone bristles with rounded tips, which when rubbing your skin manages to remove traces of dirt, makeup, and oils from the surface while removing dead cells that affect the appearance of the skin. skin. Also, it should be mentioned that by including in its design 3 areas of bristles of different lengths and T-Sonic pulsations, this facial cleansing machine cleanses deeply and delicately.
Its use is very simple and you can choose between 8 power levels, to adapt it to your needs and the specific characteristics of your skin. You can also choose a color from among the 5 available ones so that your routine is both effective and pleasant.
We invite you to analyze in detail the most relevant features of this model, probably after knowing them you will be able to determine which facial cleansing machine to buy.
Efficiency: Its design includes silicone bristles and its efficiency due to its T-Sonic pulsation technology, allows a comfortable and deep cleaning, without skin irritations.
Size: Because it is a compact device, you could easily store it in your drawer without taking up too much space or taking it on a trip.
Design: Its 5 available colors add attractiveness to the brush, to make your cleaning routine more enjoyable.
Speeds: Thanks to the fact that it has 8 power speeds, you can choose the one that is most comfortable for you and is appropriate for the area to be worked on.
Cost: Some users may not rate this as an affordable device, however, it has garnered good reviews due to its effectiveness.
3. Remington Reveal FC1000 Facial Cleansing Brush
The model offered by the Remington brand on this occasion could be the best value for money facial cleansing machine, so showing off always clean skin does not have to cost you too much. To describe it, we will begin by saying that its system to remove impurities and dead skin cells consists of two actions: vibration and rotation, which is why it is considered efficient.
Reading Suggestions: The Best Planter 2022
On the other hand, not only can you clean, but you can also benefit from its vibrations to massage your skin. While on the other hand, if you have detected that some areas of your skin are more sensitive than others, you can give each section the care it needs, because it includes a soft cleansing brush.
You will also be pleased to know that it is a waterproof device and its autonomy can reach up to 30 cleanings with just one charge, which saves you from worrying about charging it every day.
If this model has covered your needs with its characteristics, you could think that Remington is the best brand of facial cleansing machines. Here is a list of its best features
Practicality: By including three brushes with different functions, you can adapt the machine to your needs to achieve better results on your face.
Rechargeable: Thanks to its rechargeable battery, you don't need to buy batteries for its use and it provides cable-free convenience.
Water resistant: Due to its waterproof protection, you can use the model wherever you want without any impediment.
Autonomy: You will be able to use the model up to 30 times before recharging it, which can be a reasonable time.
Instruction manual: It is recommended to know in detail the use of the model in order to take advantage of its advantages, since some of its functions may not be very intuitive, such as those of the timer.
4. Beurer Fc45 Splash Resistant Facial Brushes
The Beurer brand presents us with many qualities in this machine that could meet the expectations of users who seek to cleanse their skin without complications and at a reasonable cost. First of all, it is a compact machine measuring 23.4 x 15.5 x 8.5 cm, which also stands out for its ergonomics, since its body facilitates comfortable holding through its angle of inclination.
On the other hand, it has two intensities, so you can use the one that is most convenient for the characteristics of your skin and does not irritate it if it is too sensitive.
In addition, because it is a device with IPX7 water resistance, you will have no problem using it both in the shower and dry, which will allow you to carry out your routine in your favorite place. Likewise, we do not want to fail to mention that the brand offers compatible brushes separately that might interest you.
Let's see in detail the pros and cons of this model that several users could qualify among the options on our list as the best facial cleansing machine for 20 euros.
Design: As it is a machine with good ergonomics and compact size, it can be easy to hold and comfortable.
Efficiency: Because it includes two power levels, it adapts to the characteristics of the skin to effectively clean each place without damaging it.
Cost: It is one of the most affordable models, so keeping your skin clean does not have to cost you too much money.
Batteries: The model is not rechargeable, but some users value it positively because it does not consume too much charge, so you can forget about buying spare parts for a long time and the batteries are included in the set.
Accessories: The model could include a bag to store the device, but it is not essential.
5. Quimat Sk-1068 Facial Cleanser And Sonic Massager
Another model that competes with the cheap machines is the one presented by the Quimat brand. However, its qualities make it one of the best options to gently cleanse your skin day by day.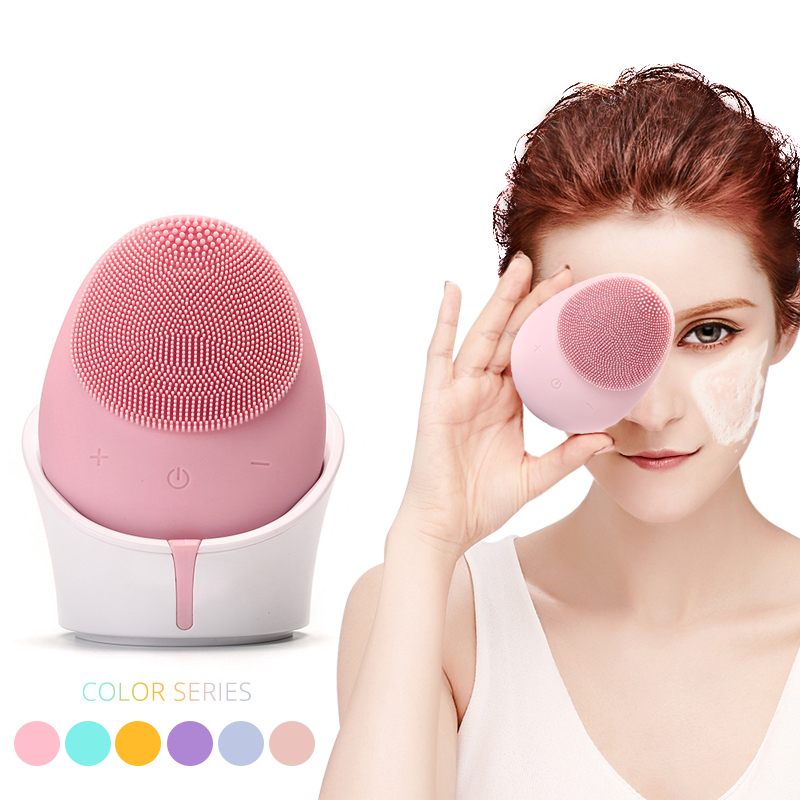 Among its features, we can highlight its design that includes medical-grade silicone bristles, which can be an alternative for those people who may have unfavorable reactions to nylon bristles.
In addition, its rounded tips and its cleaning technology through sonic pulses are effective in removing dirt from the skin and you can choose between 15 different vibration modes through its easily accessible buttons.
In addition, its attractive waterproof design provides comfortable use even in the shower. While its autonomy can be enough so that with a full charge you use it for a whole month one to two minutes per day. That way you don't have to worry about this detail too often.
To make it easier for you to decide which is the best facial cleansing machine, we leave you what you should know about this proposal, which is one of the cheapest in our selection.
Materials: Because it has bristles made of soft medical-grade silicone, it offers comfortable cleaning without irritation, which may be suitable for sensitive skin.
Waterproof: Its waterproof design allows you to use this machine without worrying too much about it getting wet.
Autonomy: Thanks to the fact that its use does not consume too much energy, it offers an autonomy of about a month, which is a reasonable and practical time.
Cable: The cable to charge the device is probably a bit short, but since it is rarely used, it might not be a major problem.
Colors: The model is not available in colors other than pink, which could be a drawback.