Introduction
Embracing the Timeless Elegance: The Black Miniature Poodle
In the world of canine companions, few breeds exude elegance and charm quite like the  Miniature Poodle Black. Renowned for its captivating allure and diminutive stature, this breed has captured the hearts of dog lovers worldwide. With a history steeped in nobility and grace, the Black Miniature Poodle continues to be a beloved pet for families and individuals alike.
A Pint-Sized Wonder with a Rich Heritage
Despite its small size, the Miniature Poodle possesses a rich heritage that dates back centuries. Believed to have originated in Germany, these pint-sized wonders were initially bred for water retrieving due to their exceptional swimming abilities and keen intelligence. Over time, their elegant appearance and amiable demeanor earned them a place in the homes of royalty and aristocrats, solidifying their status as cherished companions.
The Enigmatic Allure of Miniature Poodles
Within the world of dog enthusiasts, Miniature Poodles holds a special place of admiration. Their enigmatic allure is undeniable, drawing people to their sophisticated looks and engaging personality. With their distinctive curly coats and expressive eyes, it's no wonder they are frequently regarded as one of the most attractive dog breeds.
Understanding the Fascination with Poodles
What sets Miniature Poodles apart from other breeds and fuels the fascination surrounding them? To comprehend this, we delve into their intelligence, agility, and versatility. Miniature Poodles consistently rank high in canine intelligence tests, showcasing their ability to learn quickly and master complex commands. Their natural athleticism makes them excel in various dog sports, and their hypoallergenic coats make them a preferred choice for allergy sufferers.
Miniature Poodles: A Beloved Variant
Among the different Poodle variants, the Miniature Poodle stands out as an endearing favorite. While Standard and Toy Poodles also enjoy popularity, the Miniature Poodle strikes the perfect balance between size and adaptability. With their compact build and adaptability to various living environments, they have become an ideal choice for families, couples, and individuals seeking a loyal and affectionate companion.
A Closer Look at Miniature Poodle Black
Unraveling the Beauty of the Black Coat
One of the most captivating features of the Miniature Poodle Black is its lustrous and curly black coat. This distinctive coat adds an air of sophistication and mystery, setting them apart from their counterparts with different coat colors. The luxurious curls are not just aesthetically pleasing but also serve a practical purpose, providing insulation and protection in various weather conditions.
The Miniature Poodle's Signature Features
Aside from their striking black coat, Miniature Poodles boasts an array of signature features that contribute to their unique allure. From their proud carriage and well-proportioned frame to their expressive eyes that radiate intelligence and warmth, every aspect of their appearance exudes charm and elegance.
Unveiling the Origins and History
Tracing the Ancestral Roots of the Poodle Breed
The history of the Poodle breed is an intriguing journey that takes us back to ancient times. Despite popular belief, the Poodle did not originate in France; instead, its roots can be traced back to Germany, where they were bred as water dogs. The distinct grooming style commonly associated with Poodles today, known as "pompons," was originally designed to enhance their swimming abilities while protecting specific areas of their body from cold water.
The Miniature Poodle's Place in History
The Miniature Poodle has had a fascinating role throughout history, making its mark as a treasured companion for nobility and the upper class. From charming the courts of European monarchs to delighting artists and writers with their presence, Miniature Poodles have left an indelible impression on the cultural tapestry of various societies.
The Miniature Poodle's Personality
Intelligence and Trainability: A Poodle's Forte
When it comes to intelligence, the Miniature Poodle reigns supreme among dog breeds. Ranked as one of the most intelligent dog breeds, they possess an innate ability to grasp commands swiftly and perform complex tasks with ease. Their eagerness to please their owners, coupled with their sharp minds, makes training a joyful and rewarding experience for both parties.
Black Miniature Poodle: The Perfect Family Companion
While their beauty and intelligence are captivating, Miniature Poodles also make exceptional family pets. Their affectionate and gentle nature makes them ideal playmates for children, and their adaptability allows them to thrive in various family dynamics. With the right socialization and training, they forge deep bonds with family members and become devoted and loyal companions for life.
Nurturing Your Miniature Poodle Black
Feeding Guidelines for a Healthy and Happy Pooch
Proper nutrition is key to ensuring the health and longevity of your Black Miniature Poodle. Choose a high-quality dog food that meets their specific dietary needs, taking into account their age, activity level, and any health considerations. Regular mealtimes and portion control are essential to prevent obesity and maintain their ideal weight.
Grooming Tips: Keeping the Black Coat Lustrous
Maintaining the beauty of your Miniature Poodle's black coat requires regular grooming. Their curly fur is prone to matting and tangling, so daily brushing is essential to keep it free from knots. Regular baths and visits to a professional groomer will also help maintain their coat's shine and health.
Exercise and Mental Stimulation
Fulfilling the Poodle's Need for Physical Activity
Despite their small size, Miniature Poodles have a surprising amount of energy. Regular exercise is crucial to prevent boredom and behavior problems. Engage them in daily walks, play sessions, and interactive games to keep them physically fit and mentally stimulated.
Engaging Your Poodle's Brilliant Mind
In addition to physical exercise, mental stimulation is vital for Miniature Poodles. Their high intelligence requires mental challenges to keep them engaged and content. Puzzle toys, training sessions, and interactive games are excellent ways to stimulate their brilliant minds and prevent boredom.
Reading Suggestion: Unveiling the Mystique of Merle Pitbull: Understanding, Debunking, and Celebrating
Health and Wellness Miniature Poodle Black
Common Health Concerns in Miniature Poodles
While Miniature Poodles are generally healthy dogs, they are susceptible to certain genetic health conditions. Keeping a close eye on their health and scheduling regular check-ups with the veterinarian can help detect any issues early on. Some common health concerns in Miniature Poodles include hip dysplasia, eye disorders, and certain skin conditions.
A Holistic Approach to Poodle's Wellbeing
Maintaining the overall well-being of your Miniature Poodle goes beyond physical health. Providing a nurturing and loving environment, along with mental stimulation and socialization, contributes to their happiness and contentment. Remember that a happy and fulfilled Poodle is a healthy one.
Stylish and Sensible: Dressing Up Your Miniature Poodle
Finding Fashionable Accessories for Your Pooch
With their innate charm and elegance, Miniature Poodle Black is the perfect model for fashionable accessories. From stylish collars and harnesses to adorable bandanas and bow ties, dressing up your Poodle can be a delightful way to showcase their personality and elevate their appearance.
The Black Coat's Versatility in Style
The Miniature Poodle Black's luscious coat offers endless possibilities for creative grooming styles. From classic pompons to intricate patterns, grooming enthusiasts have explored various styles that accentuate the beauty of the black coat. Regular grooming sessions can become a bonding experience between you and your Poodle while accentuating their unique style.
Miniature Poodle Black in Society and Pop Culture
The Poodle's Presence in Art, Literature, and Media
Throughout history, Poodles, including the Black Miniature Poodle, have been depicted in various forms of art, literature, and media. From classic paintings featuring royal Poodles to fictional characters portrayed in books and movies, their charming presence has left an indelible mark on human culture and imagination.
Famous Owners and Their Beloved Poodles
Even celebrities and notable figures have fallen under the spell of Miniature Poodle Black. Renowned figures from the past and present have shared their lives with these captivating companions. Whether they were cherished pets or elegant sidekicks, the bond between famous owners and their beloved Poodles is a testament to the breed's enduring appeal.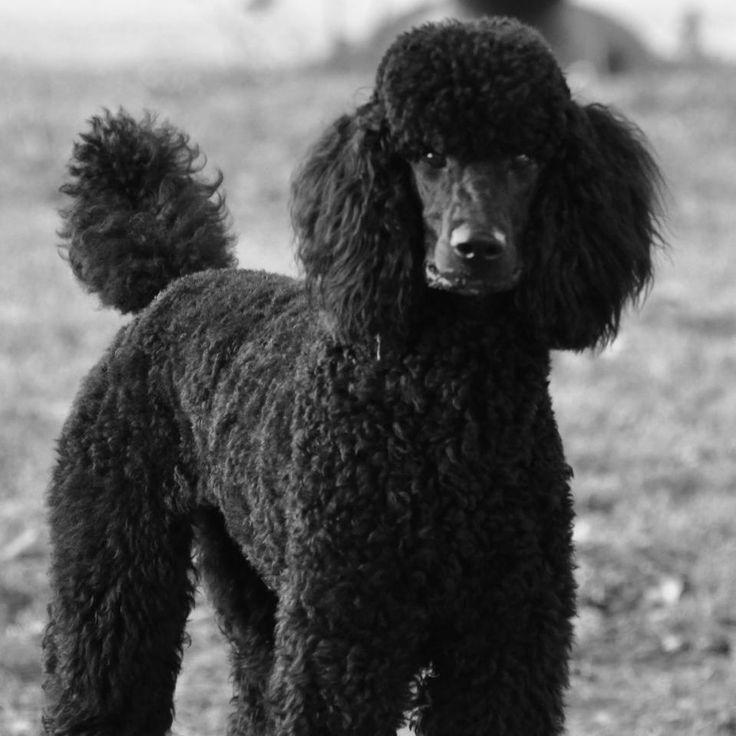 Conclusion
Forever in Vogue: Embracing the Charm of Miniature Poodle Black As we conclude our journey into the world of Miniature Poodle Black, it becomes clear why this breed continues to captivate and enchant. From their aristocratic origins to their intelligence and versatility, every aspect of the Black Miniature Poodle contributes to its timeless elegance and appeal.
A Companion for a Lifetime Whether as a loyal family companion, a spirited playmate for children, or a sophisticated addition to the home, the Black Miniature Poodle proves to be a cherished companion for a lifetime. With their intelligence, beauty, and loving nature, they have rightfully earned their place in the hearts of dog lovers around the world.
FAQ;s
Q; How big is a Miniature Poodle Black?
A Miniature Poodle black typically stands between 10 to 15 inches (25 to 38 cm) tall at the shoulder. They are known for their small size and elegant proportions, making them a popular choice for families and individuals seeking a compact and stylish canine companion.
Q; How long does miniature poodle Black live?
Miniature Poodles have a relatively long lifespan, typically living between 12 to 15 years. With proper care, a healthy diet, regular exercise, and regular veterinary check-ups, they can enjoy a happy and fulfilling life for many years, making them cherished companions for their owners throughout their lifespan.
Q; Do Miniature Poodles bark a lot?
Miniature Poodles black are known for their intelligence and alertness, which can lead to them being vocal at times. While individual personalities vary, some Miniature Poodles may be prone to barking more than others. They are highly perceptive and may bark to alert their owners to potential threats or changes in their environment. Additionally,
if they feel bored, anxious, or neglected, they may resort to barking as a way to express their emotions. Proper training and socialization from a young age can help mitigate excessive barking tendencies and encourage them to use their voice appropriately.
Q; Are mini Poodles jealous?
Miniature Poodles, like many other dog breeds, can exhibit behaviors that may be interpreted as jealousy. While dogs don't experience emotions in the same way humans do, they can display possessiveness or attention-seeking behaviors, which might be perceived as jealousy.
If a Miniature Poodle black feels insecure or neglected, it may act out or seek attention to regain its owner's focus. This behavior can be managed through positive reinforcement training, proper socialization, and ensuring they receive adequate love and care. Creating a balanced and secure environment can help minimize any potential jealous tendencies and promote a harmonious relationship with their owners.