It's not uncommon to cough up phlegm if you develop a coughing fit from deep in your lungs. Coughing up yellow or green mucus often indicates inflammation or infection. The body produces about 1 to 1.5 liters of mucus every day, even if you are healthy. If you cough up significant amounts of phlegm, it could indicate an infection or allergy. Although coughing up a little clear mucus is considered normal, larger amounts of mucus may indicate a developing infection. This happens as a result of the airways becoming inflamed, which can also lead to other complaints such as shortness of breath and shortness of breath.
White or gray slime
Coughing up white or gray mucus is often an indication of an upper respiratory infection or sinus congestion and swelling. This type of mucus comes from the sinuses. Normally there is no mucus dripping from the sinuses, but if there is inflammation, viral or bacterial, the mucus can collect in the back of the throat causing you to cough.
Some people think that consuming dairy products can lead to the development of white mucus. However, this is not true. Dairy can make mucus thicker and therefore it can be more difficult for the body to get rid of it. This causes the mucus to stagnate and dry out, leading to some thickened mucus.
Coughing up gray mucus can be a sign that the body is trying to get rid of tar or other substances that have entered the lungs and airways from smoking or inhaling large amounts of air pollutants such as smog.
brown slime
People who smoke often cough up brown mucus, which often has a grainy texture. Excessive smoking can cause mucus to turn brown because of all the substances in tobacco that get into the lungs and that the body tries to cough up
pink slime
Coughing up pink mucus is an indicator of pulmonary edema, also known as fluid behind the lungs. It may also indicate minor bleeding. This type of mucus can also have a foamy texture, which is most common in people with pre-existing heart problems.
Bloody mucus
Blood found in mucus is known as hemoptysis. Streaks of blood in mucus are a benign sign of bronchitis. Coughing up a significant amount of blood can also be a sign of tuberculosis, pneumonia, cancer, or pulmonary embolism. If you cough up blood, it is wise to consult your doctor immediately.
Coughing up green or yellow mucus
Thick, dark yellow to greenish mucus can be a sign of a viral or bacterial infection, sinus infection, or lower respiratory tract infection. This usually happens when the immune system sends white blood cells, known as neutrophils, to the area of ​​infection. These cells contain a green protein that, when present in large amounts, turns the mucus into a greenish hue. Contrary to popular belief, greenish mucus does not necessarily mean you have a bacterial infection.
Additional symptoms and complaints
Coughing up yellow or green mucus can be accompanied by the following signs and symptoms:
persistent deep 

cough

 with 

green or yellow mucus

stuffy

 or 

runny nose

sore throat

shortness of breath

wheezing

chest pain.

severe cough that can cause cyanosis: 

blue lips

 and 

blue fingers

(high) 

fever

headache

pain

 in the body

fatigue
Who and when does it occur?
Who?
Coughing up yellow or green mucus is common with:
children under five years old

elderly

people with chronic lung disease.

smokers
When?
You are more prone to infection and coughing up yellow or green mucus in the following situations:
if you are in a stressed or debilitated state and exposed to someone else who is sick

after a viral infection such as a 

cold

 or 

flu

, or a 

childhood illness

 such as 

chickenpox

 or 

measles

if you have a chronic 

lung disease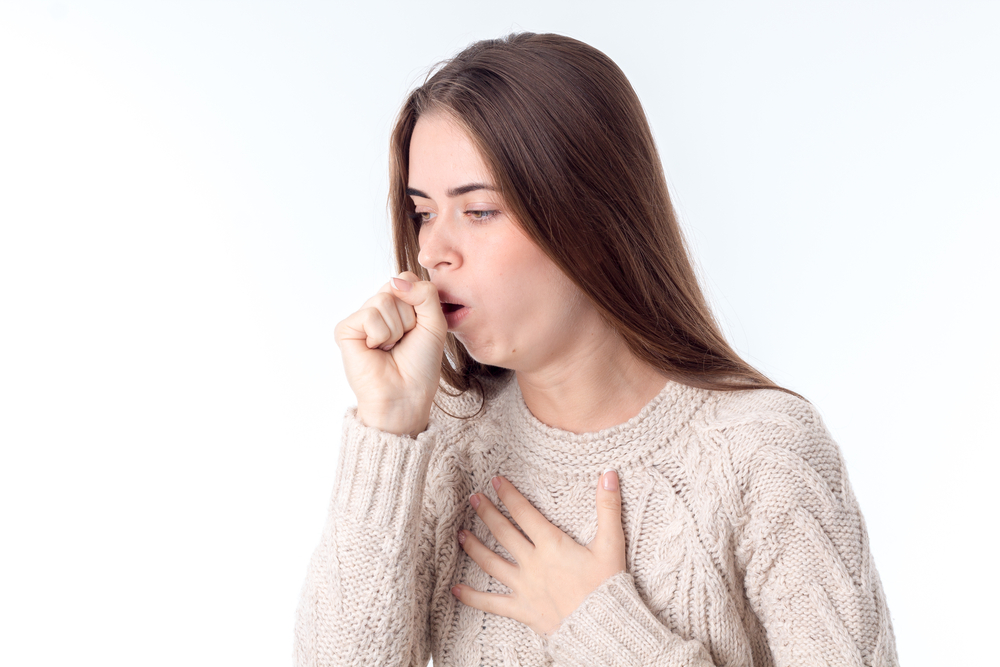 Causes of coughing up yellow or green mucus
Most common causes:
Mild to moderate bacterial infections, generally produce yellow mucus.

Acute inflammation of the lungs.

Acute inflammation of the larynx ( 

laryngitis

 ) produces a very 

hoarse voice

.

Chronic sinus infection ( 

sinusitis

 ).
Less common causes:
Severe bacterial infections, tend to produce green mucus.

Bacterial infections of the lungs can produce quite large amounts of green mucus along with a high fever.

An abscess in the lungs (lung abscess), can occur after an untreated or severe case of pneumonia. A ruptured abscess causes green mucus, pain, and fever.
Viral diseases, congenital disorders, and damage to the lungs:
Viral upper respiratory infection, also known as a cold. White-yellow sputum may appear with a cold.

Viral infections of the lungs can cause small amounts of yellowish-white mucus and a low-grade fever.

Damage to the lungs from repeated inflammation (bronchiectasis), makes it difficult to expel mucus normally, causing a heavy cough. This is sometimes due to a birth defect.
Bronchitis
In acute bronchitis, you may cough up green or yellow mucus. Bronchitis is an inflammation of the bronchi, the branches of the windpipe. It often causes a cough with mucus, as well as shortness of breath, wheezing, and tightness in the chest. Other symptoms include sore throat and shortness of breath. It is usually caused by a virus.
Pneumonia
Pneumonia causes coughing, possibly with a sore throat and coughing up green or yellow mucus. Common complaints are shortness of breath, fast and shallow breathing, (high) fever (with sweating and chills ), chest pain (which is aggravated by deep breathing and coughing), and a general feeling of malaise, manifesting itself in a poor appetite, fatigue, and headache.
Reading Suggestions: Blood pressure values ​​in children: normal values ​​table
Chronicle bronchitis
In chronic bronchitis, the bronchi (the branches of the windpipe) are permanently inflamed. Chronic bronchitis, like emphysema, falls under the heading of COPD. Bronchitis is an inflammation of the bronchi and it causes a cough with mucus, as well as shortness of breath, wheezing, and chest pain.
Tuberculosis (TB)
Tuberculosis (TB) is a disease caused by bacteria called Mycobacterium tuberculosis, which often infects the lungs, although it can affect other organs in the body as well. The bacteria can be inactive in the body for a long time (even years) until they cause symptoms such as cough, fever, loss of appetite, and night sweats.
Bronchiectasis
Bronchiectasis is a chronic lung disease in which there is an abnormal widening of the wall of the airways, the bronchi. A chronic, production cough often develops.
Acute sinus infection
Acute sinus infections are often caused by cold viruses or flu viruses (influenza viruses), but bacteria can also be the culprit. It is often accompanied by a runny, runny, or stuffy nose, pain/pressure in the face, or reduced smell. Sometimes it is accompanied by yellow or green mucus that runs in the back of the throat and which you cough up.
Lung abscess
An abscess is a collection of pus in a cavity that is the result of an infection. After an infection such as pneumonia, a lung abscess can form. Symptoms include coughing up green or yellow mucus, rib pain that gets worse with breathing, coughing, sneezing or laughing, night sweats, and unintentional weight loss.
Alarm Symptoms
Go to a hospital emergency room or call 911 immediately if you cough up green or yellow mucus and:
you have trouble breathing, especially if you also have chest pain

you cough more than a few streaks or dots of blood or you repeatedly see blood in the mucus
Make an appointment with your doctor if you are coughing up green or yellow mucus and:
you feel worse after a few days instead of better

you are pregnant

you are over 65 years old

symptoms last for three weeks or more

you have a chronic illness, such as heart, lung, or

kidney disease

you have a weakened immune system
What to do?
Observe the following self-care measures:
take enough rest

drink a lot of water

use a 

humidifier

eat healthy and varied

taking over-the-counter, nonsteroidal anti-inflammatory medications such as 

ibuprofen

 to control fever and pain

use 

paracetamol

quit smoking

soothe your throat with a cough medicine with althaea, 

thyme

, sucrose, or honey

some substances stimulate the production of mucus, such as drinks with 

anise

, salmiak, or

licorice

some substances make tough mucus in the airways thinner and less tough: acetylcysteine, bromhexine, and carbocysteine