Kitchen cabinets tend to get dirty very easily due to the steam given off by cooking and handling food in that area. Cleaning this furniture is usually a bit messy, but there are some home tricks that will make this household task very easy.
The kitchen is characterized by having some furniture with compartments for the storage of different utensils, pots, crockery, and appliances, among other elements necessary for carrying out daily recipes.
Keeping these spaces tidy and clean is essential since in this way it is not only possible to maintain a good appearance in said room, but it is also easier to access kitchen tools during preparations.
Therefore, it is important to follow correct cleaning habits in each of the kitchen cabinets, the countertop, the handles, and the floor. Let us remember that all these elements that make up the kitchen are constantly exposed to food residues, grease, vapors, and odors that come from prepared foods.
In this sense, the ideal is to clean the kitchen superficially every day and, at least once a month, do a deep cleaning. Thus, the work will be less heavy, because the dirt will take root with less intensity in the kitchen cabinets.
Next, we will tell you how to clean kitchen cabinets quickly and easily, depending on the type of drawer material, in order to remove ingrained dirt without damaging the surface.
step by step cleaning
To clean kitchen cabinets thoroughly, you will have to start by identifying the material of the furniture (wood, melamine, lacquered, laminate, among others), since the type of product to be used will depend on this, to remove dirt correctly.
Once you identify this, all you have to do is get to work and get some clothes, a bucket of water, the disinfectant products to use, and some garbage bags. Thus, you will be able to empty the kitchen shelves, since cleaning must begin inside.
To do this, you can use a side table as a support surface or if you wish, you can place the objects and utensils on the floor in an orderly manner. In fact, this will help you evaluate what is left over, get rid of it, and save space in the kitchen cabinets.
Whatever the type of furniture, it is best to take a dry cloth and rub it on all the walls and interior ballads, as well as the exterior area of ​​​​the doors. In this way, you can remove dust, clean accumulated grease, and remove stains, so that the kitchen looks shiny.
Wooden furniture
Vinegar to clean wood is a great ally and even more so if you mix it with jojoba oil since they are ingredients with mild chemistry, responsible for disinfecting and deodorizing the surface of the furniture.
Also, this mixture to clean wooden kitchen furniture provides softness and shine to the material. Just pour a moderate amount of vinegar and 10 drops of jojoba oil into a clean container.
Then, stir well until the ingredients are integrated, to start applying the mixture with circular movements over the entire surface. Leave on for a few minutes and remove excess with a dry cloth. With this home trick, you will no longer have to wonder how to clean wooden kitchen cabinets or white kitchen cabinets.
melamine furniture
Melamine is a resin used to coat wood, which offers a smooth appearance with a low-gloss finish. This surface, although not porous, is an easy target for stains and grease buildup. To keep it clean, we know that baking soda is a great help, as its natural chemistry helps dissolve dirt. That is why it is very common to use bicarbonate to clean the home in an efficient and economical way.
For example, to clean melamine kitchen furniture, it is recommended to dissolve a tablespoon of baking soda in a couple of cups of hot water and one of vinegar. Stir all the ingredients and vigorously apply the solution to the melamine with a soft cloth. It is not necessary to remove the excesses.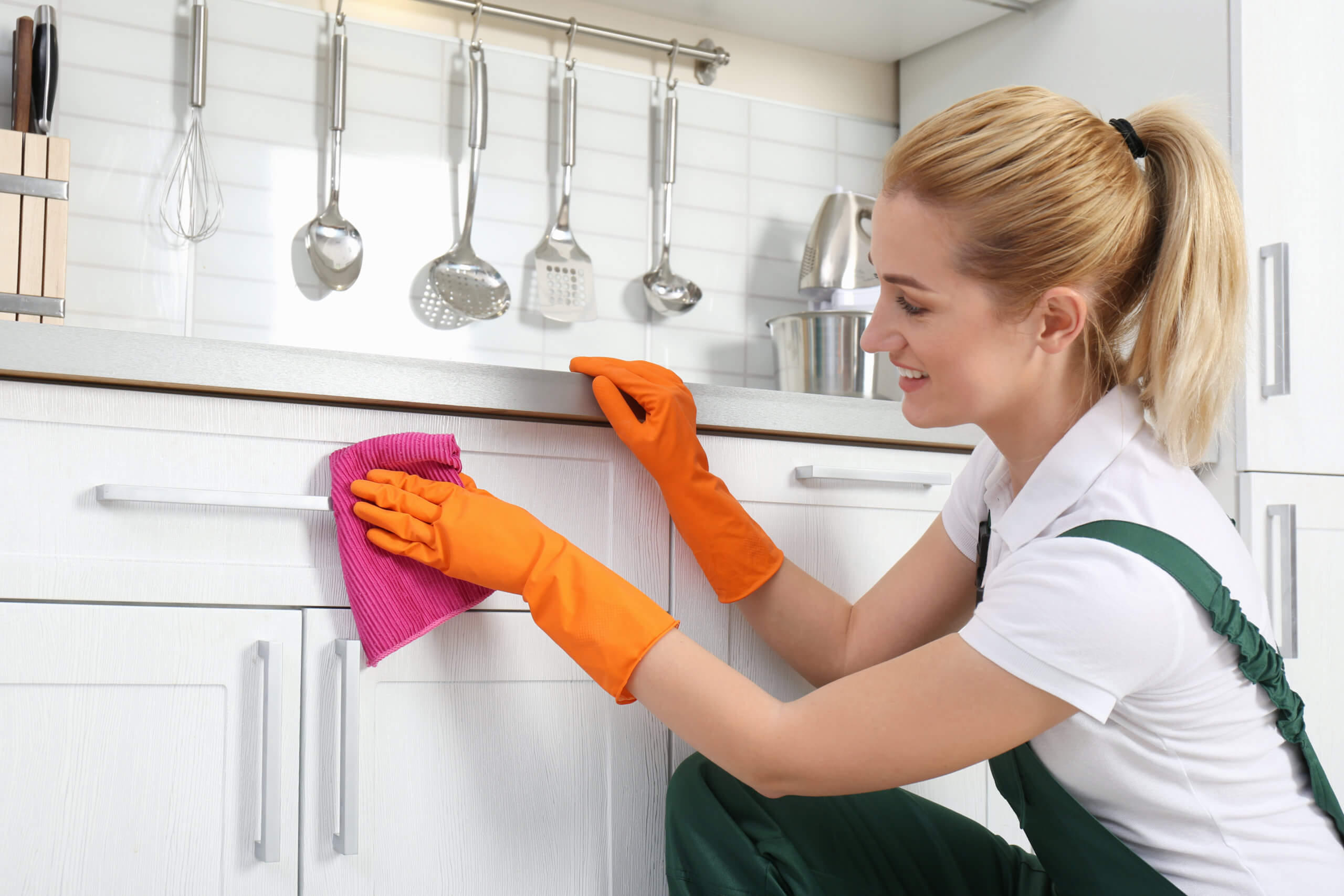 lacquered furniture
To clean lacquered furniture, the ideal is to rub a mild detergent with a sponge and then remove the excess product with a damp cloth. Then, take milk from the refrigerator and moisten a cloth with it, slide the textile evenly over the lacquer and dry with a dry cloth. You will immediately notice how the furniture looks like new again.
tiled furniture
There are several ways to clean tiled furniture. One of them is the most common: rub a soft sponge moistened with dishwashing liquid, remove the excesses with tap water and dry with a cloth.
Also, you can clean it with baking soda dissolved in water. Apply the mixture, especially on the joints, and let it rest for 5 to 10 minutes so that the active ingredients do their job. Finish by removing the solution with water.
Now, if your wish is to restore shine to the surface, you can use a grease remover product. In this sense, you will have to clean the tiles with vinegar and water. This combination also works to clean white walls. Thus, take a piece of newspaper and impregnate it with said solution, and proceed to rub the tiles one by one. You will obtain the final finish by going over the tiles with a damp cloth.
Nobody likes a dirty kitchen, so to reduce mess, you can also clean with vinegar and baking soda, a much more powerful and cheaper solution.
Another method of cleaning tiled kitchen cabinets is to use a handheld steamer. This is a cleaning kit that uses steam to loosen grease and get rid of germs in a single pass. Also, with this device, you can clean the dirty walls of smoke.
These are some of the many existing homemade recipes for cleaning kitchen cabinets. Likewise, you can check other equally effective tricks on the web. Remember to clean the drawer handles, disinfect the floor and empty the garbage can, to complete the kitchen cleaning.