The pomegranates has many health benefits and is packed with nutrients. From the outside, the pomegranates (Punica granatum) looks quite ordinary, but as soon as you open the fruit it reveals its beauty in the form of many ruby-red seeds. The pomegranate is one of the healthiest fruits in the world because when it comes to nutrients, pomegranate seeds are real all-rounders.
They protect you from various diseases, including high blood pressure, high cholesterol, diabetes mellitus, and inflammation in the body. In addition, the small powerhouses have an antioxidant effect and protect the body cells against harmful influences. Pomegranate seeds have antibacterial properties and can fight various bacteria in the body. It can prevent gum disease, especially in the mouth and throat.
History
Historically, pomegranates has been cultivated and used in various cultures for centuries. They originally come from Persia (present-day Iran). The pomegranate also appears in the Bible, most notably in the Bible Book of Songs. The characteristic fruit can also be found in Greek mythology, for example in the myth of Persephone. The fruit has traditionally been attributed to a healing effect, which has been rediscovered by modern science. Today, the pomegranate is one of the most popular and versatile plants that can be used in many diseases.
Pomegranates is rich in important nutrients
Vitamins and minerals
The edible pomegranate seeds are packed with health-promoting ingredients, including vitamins C and K, folic acid, and fiber. A pomegranate contains the following nutrients per 100 grams:
| Vitamin or mineral | Amount of |
| --- | --- |
| Vitamin A | – |
| Vitamin B1 | 0.05mg |
| Vitamin B2 | 0.02mg |
| Vitamin B3 | 0.3mg |
| Vitamin B5 | 0.4 |
| Vitamin B6 | 0.3mg |
| Vitamin B8 | – |
| Vitamin B11 (folic acid) | 38 μg |
| Vitamin B12 | – |
| Vitamin C | 10.2mg |
| Vitamin D | – |
| Vitamin E | 0.06mg |
| Vitamin K | 16.4 μg |
| Iodine | – |
| Chlorine | – |
| Chrome | ? |
| Sodium | 3mg |
| Potassium | 200mg |
| Calcium | 10mg |
| Phosphorus | 10mg |
| Iron | 0.03mg |
| Magnesium | 12mg |
| Buyer | 0.2mg |
| Zinc | 0.4mg |
| Selenium | 0.17 mcg |
| Manganese | 0.12mg |
| Molybdenum | ? |
| Fluoride | – |
Polyphenols
Polyphenols (a group of antioxidants) are also abundant, especially flavonoids (these give color to many fruits and vegetables) and tannins (which affect the taste, color, and texture of the fruit). These bioactive substances have an antioxidant effect and protect the body cells against harmful influences, slow down the aging process, and have an anti-inflammatory effect.
Phytoestrogens in pomegranates
Pomegranates contain ingredients that can be classified as phytoestrogens. Phytoestrogens are phytonutrients that are very similar in structure to the human sex hormone estradiol. However, this does not mean that the 'vegetable estrogens' in your body can work in the same way as the body's own messenger substances.
Like the female hormone estrogen, they have an affinity for the estrogen receptor. However, phytoestrogens are inferior to the body's own, real hormones, because they can bind to these receptors to a lesser extent.
Research into the influence of pomegranate phytoestrogens in women of childbearing age is lacking in 2022. So far, the ingredients of the fruit have only been studied for their possible hormone-like effects during menopause or in breast cancer. Pomegranates seed oil does not significantly reduce hot flashes in postmenopausal women within an observation period of 12 weeks, but further studies are needed in 2022 to investigate the long-term effect.
Health benefits of pomegranate
The pomegranate has several health benefits.
Breast cancer
Eating fruits, such as pomegranates, that contain anti-aromatase phytochemicals reduces the incidence of hormone-dependent breast cancer, according to the results of a study published in Cancer Prevention Research, a journal of the American Association for Cancer Research.[2] Pomegranate contains a series of compounds known as ellagitannins,
which appear to be responsible for the pomegranate's anti-cancer effect, as shown in this study. Ellagitannins are a powerful antioxidant and protect DNA from attack by carcinogens. However, in 2022, more research on the individual components and the combination of the substances is needed to understand the potential risks and benefits of using pomegranate juice or isolated compounds for health benefit or for cancer prevention.
However, this research suggests that further research on pomegranate ellagitannins should be continued.
Protect body cells from damage
The pomegranate combines two unique substances in its seeds, which are an important part of its health-promoting effects: punicic acid (omega-5 fatty acid) and punicalagin. The first is a polyunsaturated fatty acid found in pomegranate seed oil and is rich in bioactive compounds that protect the body's cells from damage.
Punicalagin is a tannin and belongs to the group of polyphenols. It is a phytochemical with a variety of beneficial health effects. It has a potential anti-cancer effect, a beneficial influence on the development of Alzheimer's disease, and an anti-inflammatory effect.[3]
Protection against prostate cancer
Prostate cancer is one of the most common cancers in men. If the level of the prostate-specific antigen ( PSA ) in the blood is elevated, it is usually an indicator of a change in the prostate . Studies from 2012 show that pomegranate juice may reduce the risk of developing prostate cancer. The juice can also have an inhibiting effect on the growth of cancer.[4]
Lowering of blood pressure
High blood pressure (hypertension) is common in our society in 2022 and, in the worst case scenario, can lead to strokes and heart attack s . Research from 2013 shows that you can significantly lower your blood pressure within two weeks in case of high blood pressure by drinking 150 milliliters of pomegranate juice per day.
Against arthritis and joint pain
Pomegranate seeds have a variety of health-promoting effects on the body. These include positive changes in arthritis ( joint inflammation ) and joint pain . Pomegranate's anti-inflammatory ingredients can help reduce the pain caused by the disease.
Heart disease prevention
The development of heart disease can have various causes. However, some factors can be positively influenced thanks to the substance punicic acid in pomegranate seeds. A 2010 study showed that drinking 800 milliliters of pomegranate juice per day for a period of four weeks improves your cholesterol levels .
Against bacterial infections
Pomegranate seeds can be effective against harmful microorganisms in the body due to their anti-inflammatory and antibacterial properties. The pomegranate also exerts its anti-inflammatory effect in the mouth and throat and can, for example, prevent inflamed gums (gingivitis).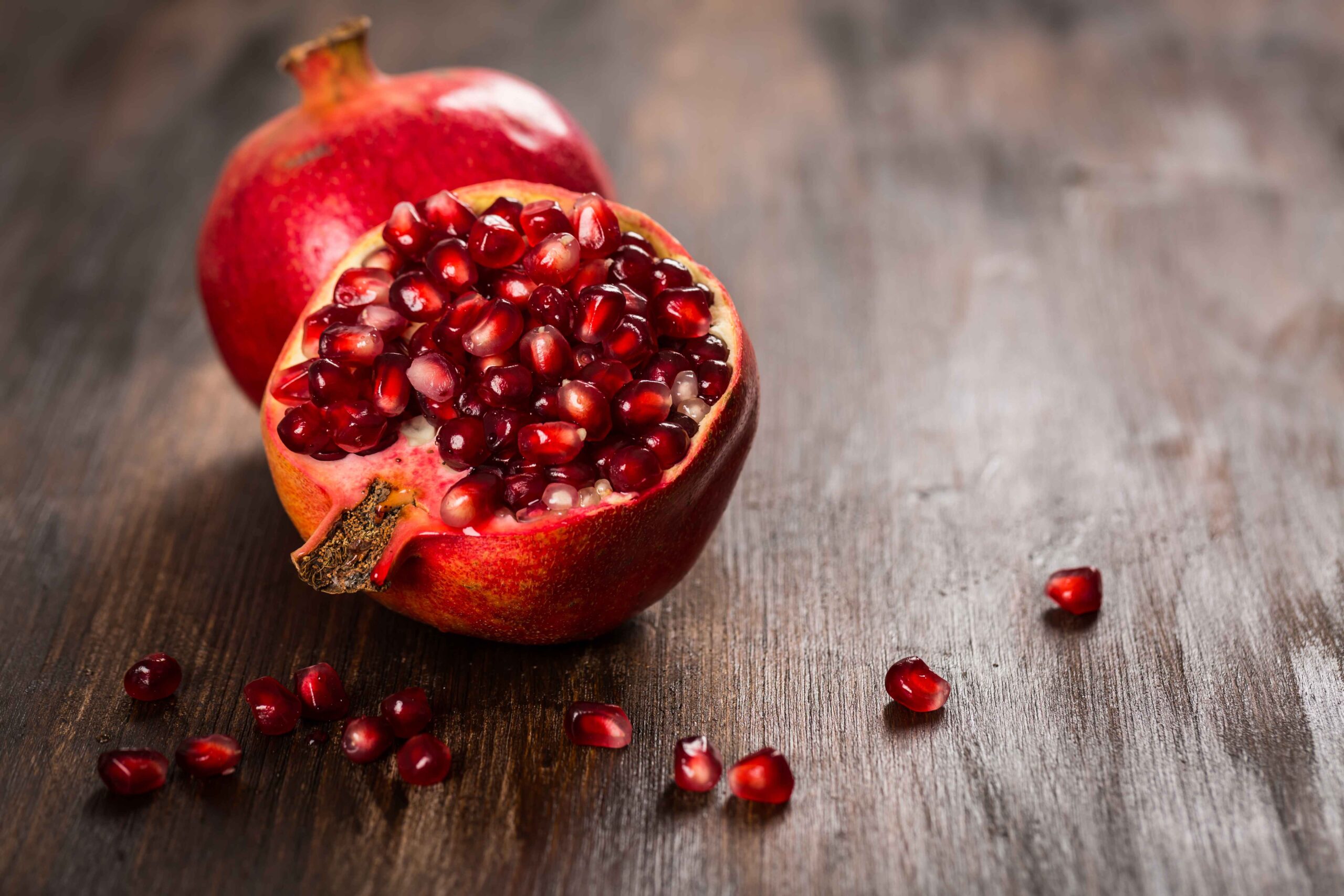 Treat stomach disorders
Pomegranate peel, bark, and leaves are used to soothe an upset stomach or diarrhea caused by digestive problems. Drinking tea made from the leaves of these fruits (pomegranate tea) also helps to cure digestive problems.
Treat anemia
Healthy blood flow can be maintained in the body by consuming these fruits. Pomegranates supply iron to the blood, which reduces the symptoms of anemia , such as exhaustion, dizziness, weakness and hearing loss.
Keeping diabetes under control
Pomegranate is traditionally used as a remedy for diabetes in the Middle East and India. While much is still unknown in 2022 about pomegranate's effects on diabetes, it may help lower insulin resistance and control blood sugar levels .
Endurance and sports performance
Pomegranate juice is a real sports performance enhancer. The juice can help reduce pain and improve recovery after sports activity. It also reduces oxidative damage caused by intense exercise.
Pomegranates seed
Before peeling, roll the pomegranate on a smooth surface a few times. This will loosen the nuclei inside. Take a sharp knife and make and cut slowly and controlled the pomegranate in two halves. Then fold the skin slightly outwards by slightly bending and stretching the skin. Now hit the back of the pomegranate several times with a wooden spoon if you have it in your hand and let the seeds fall from the pomegranate into a bowl.
Make your own pomegranate juice
When you squeeze the pomegranate seeds, you can enjoy the pomegranate juice directly. For example, a Zip-Lock freezer bag is ideal for this purpose. Put the seeds in the bag and close it. Now use a rolling pin to crush the pips and let the juice escape. If you now cut a small corner out of the bag, you can simply pour the juice into a glass and drink it or cook with it.
Pomegranates as an ingredient in the kitchen
You can use both pomegranate juice and pomegranate seeds in the kitchen. The pomegranate harmonizes with both spicy and sweet foods and is versatile. For example, the seeds are prepared with strong or creamy cheeses, sprinkled over meat dishes or prepared with the juice with a slightly sour dessert. Or the Indian dish korma curry with eggplant, pistachios and pomegranate.
Pomegranates in cosmetics
The pomegranates are also extremely popular in the cosmetics industry because of its properties. For example, many of the ingredients in pomegranate protect against so-called free radicals and can therefore noticeably slow down and reduce skin aging. Just take a closer look at the ingredients in the various cosmetic products and you will be surprised how often you will see the pomegranate there. For example, due to the pomegranate extract, it can smooth out small wrinkles , shrink pores and positively affect the overall appearance of the skin.