Nothing is more annoying than ugly yellow stains on your beautiful white clothing. And especially in white clothing, removing stains is very difficult. The stains are often found under the armpits and are caused by sweating or deodorant.
Fortunately, there are many (home) remedies to get the stains out, so that you can fully enjoy your bright white clothing again. Did you know that simple remedies such as vinegar, soda, or rinse aid can work wonders for your white clothes? Then hang it to dry in the sun and the stains will have largely disappeared.
Yellow spots in your white clothes
A combination of sweat and deodorant can cause yellow stains on white T-shirts. These stains often do not come out in the washing machine. It's a shame about your beautiful white clothes, of course, but it's also a dirty sight. With a few simple home remedies, you can greatly reduce the yellow spots, or even get rid of them completely.
Rinse aid remove stained white clothing
With a rinse aid for the dishwasher, it is possible to get the stains out. Coat the yellow stains with the rinse aid and let it soak in for a few hours. Then you wash the shirt, just in the washing machine as you normally do. You will see that the stain has been greatly reduced or even completely disappeared.
Reading Suggestions: 5 Tips To Clean The Screen
Dishwasher tablets and effervescent tablets
Another good remedy is a dishwasher tablet. Put a dishwasher tablet in the washing machine, and continue to do the laundry in the same way as you normally do. You will see that the spots are much fewer. Incidentally, this only works with fairly new stains, or stains that are not so bad. With really big stains you will notice that they do not disappear completely with this trick, but in most cases, they will be greatly reduced. Instead of a dishwasher tablet, you can also use an effervescent tablet for cleaning dentures.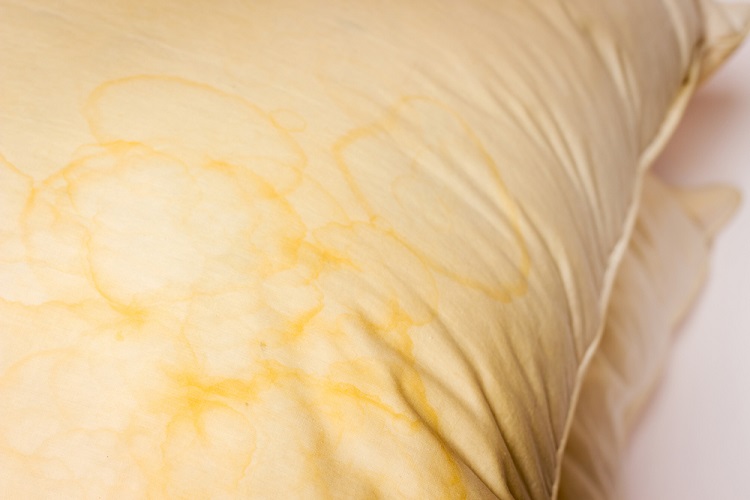 Pale
Another tip to get your white shirt radiant white again is to soak it briefly in a bucket of water with bleach. The yellow spots are then bleached, after which the shirt is white again. However, only do this with all-white shirts. This is not possible with white shirts with a print, as it will also fade or discolor.
Soap
Green soap
A commonly used remedy is of course green soap. Green soap can make the yellow stains disappear from your clothes. However, it is important that you let the soap soak into the clothing. Lubricate the yellow spots well, and let it soak in all night. Then just put the clothes in the washing machine and the stains will be gone. When it comes to 'older' yellow stains, the use of green soap is often not sufficient.
Ox gall soap
Another soap for yellow stains in clothing is ox gall soap. Lubricate the yellow spots with ox gall soap and let it soak in for a few hours. When you wash the garment afterward, it will be beautifully white again. Ox gall soap is for sale at the drugstore.
Soda
Baking soda is a good home remedy that comes in handy in many cases. The same goes for removing yellow stains from your white blouse or shirt. Make a solution of water and soda. Rub the baking soda evenly over the yellow stains so that it can absorb properly. Let it stand for an hour. You can then simply put the garment in the washing machine and the yellow stains will have disappeared.
Vinegar
Another good home remedy for removing stains from white clothes is vinegar. Fill a bucket with warm water and add a good splash of vinegar. Let this soak in for a few hours. You can then wash the garment on a normal program. For best results, use natural vinegar.
Hot wash
Detergents that promise to make clothes white again, in some cases only work at temperatures above 75 degrees. When it comes to white shirts or T-shirts worn under clothing, it is best to wash them at a high temperature to get the stains out.
The sun!
The most natural way to remove stains from white clothing is with the help of the sun! The sun has a bleaching effect. First, wash the garment in the washing machine as usual. Then hang it to dry in the sun for an afternoon and the spots will become a lot lighter. Light spots can even disappear completely with the help of an afternoon of sun.