The silicone gun is a very useful tool for bonding different types of surfaces, whether in DIY carpentry projects, construction crafts, or crafts. But not all of us are fully aware of its ability to create, repair, and improve highly useful and simple objects in the home, so it is worth learning about some of the most interesting ideas.
1. Decorate and write on glass jars with silicon
This is a way to use a glue gun and give a vintage or rustic style to empty glass jars, which we tend to store unconsciously. Thanks to this idea, they can be reused to decorate at parties, events, or weddings, whether you complement them with ribbons, place a candle inside them, or store sweets in them. Likewise, you will need precision and patience to obtain the expected finish, the same happens if you want to write on its surface and then paint it.
2. Upholster furniture
The furniture in your home is the most appropriate to upholster with different motifs and designs, which can range from a simple plain surface to designs with flowers, animals, or abstracts, giving it a completely different look. In this sense, you can use the silicone gun to cover tables, walls, and shelves with some fabric, however, it is not appropriate to upholster chairs with silicone, since the glue could yield over time due to body heat.
3. Glue and hide the cables of the electrical appliances
Some electrical appliances in our home have very long cables to be adapted to the conditions and distance between the installation area and the power outlet. This usually causes inconvenience among people as they get entangled with each other, collect dust, or scatter on the ground constantly, which could cause accidents or decrease the cable's durability. Therefore, you should know that it is possible to stick it to the wall with the use of a glue gun.
Reading Suggestions: 10 Tips For The Garden Decorating
In principle, you must take into account the space of its installation, since it is advisable to hide the cable behind or on the edge of the door frames, in other cases, you can stick them on the edges and corners of the walls; in this way, they will go unnoticed in the room. For this task, it is recommended to use a little glue for a cleaner finish and to avoid damage to the paint on the wall.
4. Create non-slip surfaces
You can use a hot glue gun to create a sticky layer on a smooth surface, as long as its durability is not affected by the contact of the silicone or the temperature of the silicone. For this reason, this technique is mainly indicated for gluing rugs or shelves, but it can actually be used to create non-slip surfaces for any object, such as slippers and tables. In this sense, it is only necessary to create a small design with silicone at the base of the object, taking care that it has the same thickness throughout the surface to avoid unevenness.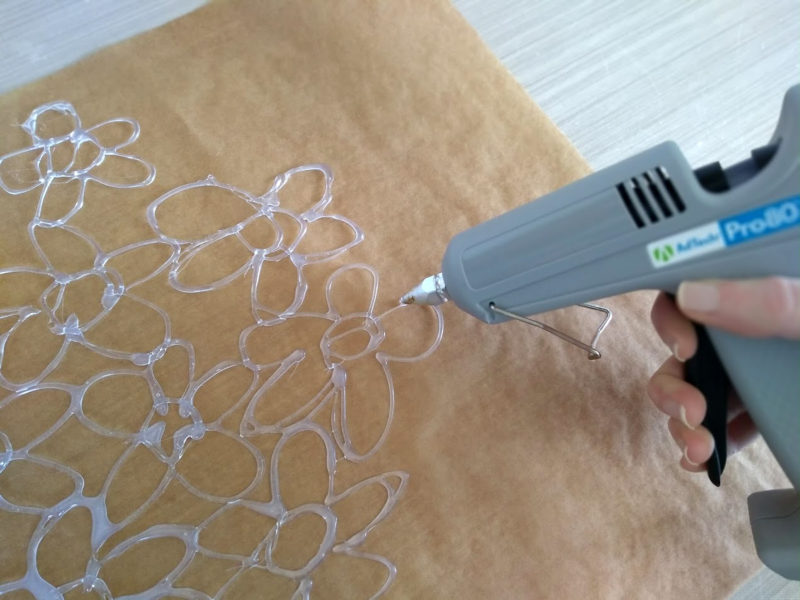 5. Quickly hemming
It doesn't matter if you have an expensive hot glue gun or one of the cheaper ones, you should know that it is possible to hem quickly and efficiently, whether it's pants that hang more than desired or if the curtains are torn or poorly folded. In this sense, silicone can also join fabric and different materials in it, so you can incorporate prints and different designs into pants, as well as repair and place buttons on shirts in just a few seconds, making it a good idea for an emergency.
6. Cover and repair cracks in windows
If you want to use a silicone gun to make repairs, you have to take into account its benefits when covering cracks or broken surfaces, especially in windows and their frames. If you feel cold entering through the window or the wind sneaks in between the edges, then with a silicone gun you can cover the cracks, in addition, silicone is an easy-to-remove material, so you can remove it from the window when it is no longer necessary.
7. Decorate the space with lights
As with appliance wiring, lights can be installed along the edges of walls for aesthetic purposes. Nowadays, LED lights are all the rage for their lighting and decorative benefits, so you can use hot glue if you decide to install them under the cupboard, in the closet, near the dark column of the wall, in the kitchen, or in any other corner of the house.
8. Paste pictures and decorative objects
Nails are traditionally used to place a picture on the wall or any other element, be it photos, frames, recognitions, or information documents. However, with a glue gun you can stick these objects on any wall without having to drill it since, in addition to damaging it with a nail, it leaves a mark if you decide to remove the painting, which is not practical or functional. In this case, it is also possible to peel off the silicone easily and it is resistant to the weight of certain objects, as long as you use the glue correctly on the surface.
9. Repair lamps with silicon and glue-gun
The fabric covering bedside lamps often deteriorates and becomes dusty over time, diminishing the room's appeal and potentially detracting from the lamp's light. However, you can carefully remove the material that covers the lamp and replace it with a new one, sticking a little silicone on the edges; in this way, the lamp will be like new. As if that were not enough, you can combine them according to the occasion, placing a blue or warm fabric to increase or decrease the feeling of intimacy in the room.
10. Create decorative objects
With a little practice and if you have a smooth plastic surface, it is possible to create different designs with silicone that you can later use, such as jewelry, key rings, and prints, among others. This is because silicone is a moldable material that you can punch, bend, decorate while hot, and cut to your creativity when cold, offering versatility for use in multiple areas.