Introduction
The graceful beauty of swans
Swans are often admired for their graceful presence and elegant demeanor. With their long necks, slender bodies, and pristine white feathers, they captivate our attention wherever they go. But amidst their captivating allure, one question often arises: Can swans fly? Let's delve into the world of these majestic birds to uncover the truth behind their aerial capabilities.
Setting the stage for exploration
Before we embark on our journey to uncover the truth about swans and their ability to fly, let's set the stage for our exploration. We'll delve into their anatomy, flight capabilities, flying techniques, factors affecting their flight, species with limited flight abilities, the symbolism of swan flight in mythology, their presence in captivity and conservation efforts, and ultimately, answer the question that lingers in our minds.
Anatomy and Physical Characteristics of Swans
Overview of swan species
Swans belong to the Anatidae family, which also includes geese and ducks. While there are several species of swans, the most well-known ones include the mute swan, trumpeter swan, and whooper swan. Each species possesses unique characteristics and adaptations that contribute to their overall flying capabilities.
Wingspan and body structure
Swans are known for their impressive wingspan, which can range from 6 to 10 feet, depending on the species. Their long wings, combined with their sturdy bodies, provide them with the necessary framework for flight. The structure of their bones, lightweight yet robust, enables efficient movement in the air.
Feather types and their aerodynamic properties
Feathers play a vital role in a swan's ability to fly. Their feathers are layered and consist of various types, including contour feathers, down feathers, and flight feathers. Contour feathers provide insulation and streamline their bodies, while flight feathers are responsible for generating lift and thrust during flight.
Flight Capabilities of Swans
The basics of bird flight
To understand swan flight, it's crucial to grasp the fundamentals of bird flight. Birds achieve flight through a combination of lift, thrust, weight, and drag. Lift is generated by the interaction between the shape of the wings, the angle of attack, and the speed at which air flows over them.
Reading Suggestions: Foxes, clever hunters
Adaptations of swans for flight
Swans have evolved several adaptations that facilitate their flight. Their strong pectoral muscles, located in the breast area, provide the power needed for wing flapping. Their hollow bones reduce overall weight, allowing for increased maneuverability and agility in the air.
Wing movements and flight patterns
Swans exhibit distinctive wing movements and flight patterns. During flight, they rhythmically flap their wings, exerting force against the air to generate lift. Once airborne, swans can maintain a steady glide by adjusting the angle of their wings and utilizing air currents to their advantage.
The Flying Techniques of Swans
Takeoff and landing procedures
Swans employ specific techniques when taking off and landing. To take flight, they run across the water, flapping their wings vigorously until they achieve enough lift to become airborne. During landing, they gradually descend, extending their legs forward to prepare for a graceful touchdown on the water's surface.
Flapping and gliding in flight
While in flight, swans combine flapping and gliding techniques to conserve energy and maintain their momentum. They alternate between powerful wing flaps and gliding periods, during which they ride air currents without exerting excessive effort. This efficient flying strategy enables them to cover long distances with minimal fatigue.
Hovering and aerial maneuvers
Swans are also capable of hovering and performing various aerial maneuvers. Hovering involves maintaining a stationary position in mid-air by adjusting wing movements and balancing the forces acting upon their bodies. Additionally, swans can execute graceful turns, dives, and even inverted flights, showcasing their aerial prowess.
Factors Affecting Can Swans Fly
Environmental conditions
Several environmental factors influence swan flight. Wind speed and direction play a crucial role, as swans rely on favorable wind conditions for takeoff and navigation during flight. Temperature and altitude also impact their flight capabilities, as variations in air density affect the efficiency of their wing movements.
Seasonal variations and migration patterns
Swans, like many other bird species, exhibit seasonal variations in their flight behavior. They engage in long-distance migrations, covering thousands of miles to access optimal breeding and feeding grounds. Understanding their migration patterns provides valuable insights into their flight capabilities and endurance.
Impact of Habitat and available resources
The habitat and availability of resources significantly impact swan flight. Wetlands, lakes, and rivers serve as vital habitats for swans, offering both nesting sites and abundant food sources. The quality and accessibility of these habitats can directly influence their flight patterns and overall well-being.
Swan Species with Limited Flight Abilities
Understanding flightless swan species
While most swans are proficient flyers, some species have limited flight abilities. The flightless swan, also known as the South American black-necked swan, possesses smaller wings relative to its body size, hindering its ability to achieve sustained flight.
Reasons behind limited flight in certain swans
The limited flight abilities of certain swan species can be attributed to various factors. Evolutionary changes, such as adaptations to a sedentary lifestyle or a shift in habitat preferences, may have influenced their flight capabilities. Additionally, environmental pressures and predation risks can contribute to the reduction of flight in certain swan populations.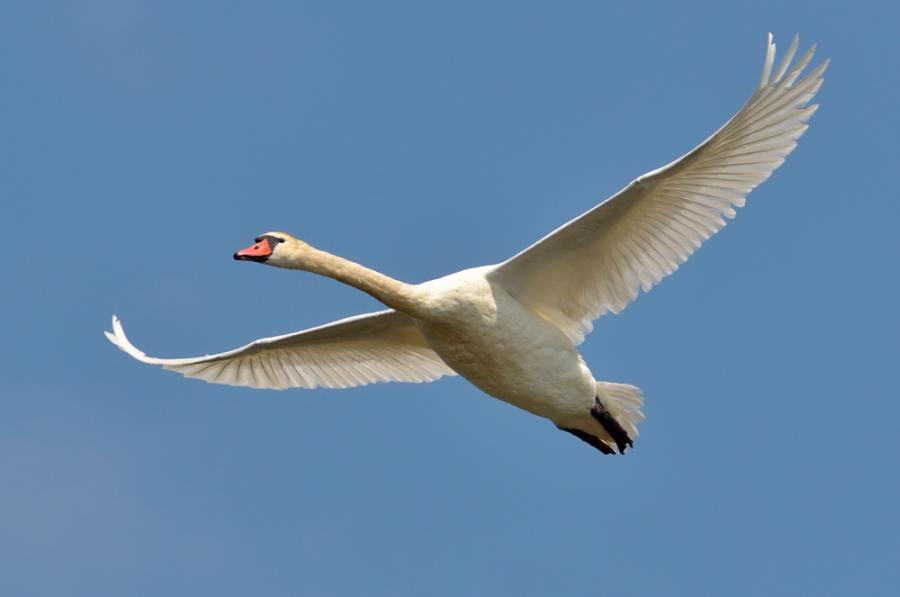 Behavioral adaptations compensating for reduced flight
Flightless swans have developed behavioral adaptations to compensate for their reduced flight capabilities. They rely on their strong swimming skills and agile movements in the water to evade predators and access food sources. These behavioral traits demonstrate the remarkable adaptability of swans in the face of flight limitations.
Swan Flight in Mythology and Symbolism
The historical significance of Swans in Culture
Swans have held significant cultural importance throughout history. In ancient mythology, they were revered as symbols of purity, beauty, and transcendence. They are often featured in folklore, poetry, and artwork, representing grace, love, and spiritual transformation.
Swan flight as a symbol of elegance and grace
The flight of swans has long been associated with elegance and grace. Their synchronized movements and seemingly effortless glide across the water or through the air evoke a sense of tranquility and harmony. Swan flight serves as a powerful symbol of poise and sophistication.
Swans as messengers in folklore and literature
Swans have been depicted as messengers or intermediaries between the mortal and divine realms in various folklore and literary works. Their ability to traverse land, water, and air has made them a symbol of communication, intuition, and spiritual guidance in different cultures and storytelling traditions.
Swan Flight in Captivity and Conservation
Challenges and benefits of keeping swans in captivity
Keeping swans in captivity presents both challenges and benefits. Providing suitable enclosures and maintaining proper nutrition and care can be demanding. However, the opportunity to observe swans up close allows for a deeper appreciation of their beauty and behavior, contributing to educational and conservation efforts.
Conservation efforts to protect swan populations
Conserving swan populations is crucial for maintaining biodiversity and preserving their habitats. Various organizations and initiatives focus on habitat restoration, monitoring population trends, and implementing conservation strategies to protect swans from habitat loss, pollution, and other threats.
Swan rehabilitation and reintroduction programs
In instances where swans have been injured, orphaned, or displaced, rehabilitation and reintroduction programs play a vital role. These programs aim to provide necessary medical care, rehabilitate injured swans, and reintroduce them back into their natural habitats. They contribute to the conservation of swans and ensure their long-term survival.
Conclusion
Answering the question: Can swans fly?
After exploring the anatomy, flight capabilities, techniques, and various factors affecting swan flight, it is clear that swans are indeed capable of flying. Their adaptations, graceful wing movements, and mastery of aerial maneuvers highlight their ability to navigate the skies with finesse and elegance.
Appreciating the complexity of swan flight
The complexity of swan flight goes beyond their physical abilities. It encompasses their cultural symbolism, historical significance, and the intricate ecological relationships they forge within their habitats. Understanding the nuances of swan flight allows us to appreciate the natural wonders and marvels that exist in our world.
Embracing the beauty and significance of these majestic birds
Swans, with their ability to soar through the air and glide across serene waters, captivate our imagination and evoke a sense of wonder. Their beauty, elegance, and cultural symbolism make them truly enchanting creatures. By protecting their habitats, conserving their populations, and embracing their significance, we ensure that future generations can continue to appreciate the magnificence of swans.
FAQ's
Q; Can a swan fly from the ground?
Yes, swans are capable of flying from the ground. While they are large and heavy birds, they have powerful wings that allow them to take off from land or water surfaces. Swans typically need a running start to generate enough lift for takeoff, but they can fly efficiently once airborne.
Q; Can swans fall in love?
Swans are known for forming strong pair bonds with their mates, and this behavior is often interpreted as a form of love in the animal kingdom. They engage in courtship rituals, mate for life in many cases, and display affectionate behaviors, indicating a deep emotional connection between swan partners.
Q; Can swans fly at night?
Swans are diurnal birds, meaning they are most active during the day. While they are capable of flying at night if disturbed or threatened, they generally prefer to rest and sleep during nighttime hours. Flying in darkness can be more challenging for swans, as they heavily rely on visual cues for navigation.