best silicone guns on the market
These tools are preferred by many users when performing adhesion tasks, both professionally and at home. However, given the variety that currently exists, we have prepared a list of some of the best glue guns of 2022, so that you can select the most convenient one according to your needs.
Hot glue gun
1.Tilswall TSW-GGEU glue gun
Having a hot glue gun at home is very useful when it comes to crafts, decoration, DIY or crafts. Such is the case of this Tilswall brand model, designed with advanced technology in order to offer optimal performance.
It is an electric model that integrates a PTC thermistor into its structure, which, together with its 50-watt power, favors rapid heating in less than 5 minutes. Likewise, it has an intelligent temperature control that maintains the heat at 165 ° C, in order to melt the silicone efficiently.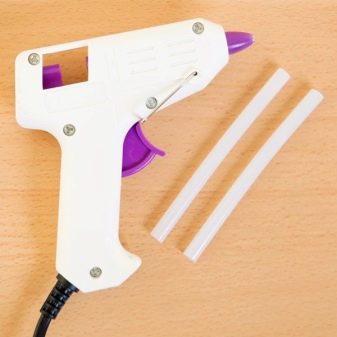 It also has an LED power indicator and offers a convenient stand that stabilizes the gun between uses. It is recommended for gluing paper, fabric, lace, ceramics, glass, plastic, wood, and more. On the other hand, with the purchase, you will receive 75 pieces of glue 13 cm in length and free of toxicity.
This is a high-quality and very useful spray gun for use in the home and office. Next, analyze its most outstanding qualities.
Fast heating: Thanks to its advanced technology, it is a gun that does not require preheating. Therefore, it is ready for use in just 5 minutes.
Safety: In order to avoid accidental burns to your fingers, the mouthpiece has a protective silicone ring.
Variety: You can choose the model that is most convenient for you according to your needs, 50 or 150 watts.
 Threads: Flexible silicone bars tend to shed more threads than expected during application.
2. Tacklife GGO20AC Glue Gun
This Tacklife brand hot glue gun is considered by some users to be one of the cheapest because it does not cost much money and it is a compact tool, thanks to its dimensions of 14.6 cm x 11.5 cm x 2 .7 cm, which makes it suitable for use by children under adult supervision.
Likewise, it has automatic protection against overheating through a safety fuse, capable of preventing leaks inside, for this reason, the melted silicone can only come out through the tip of the gun. Its mouthpiece is made of pure copper and has a diameter of 1.8 mm.
On the other hand, it has a classic black design and is capable of working at 20 W of power with a temperature between 171 and 206 °C, to make all kinds of projects in different materials. Also, it is good to know that it is compatible with silicone bars from 6.8 to 7.5 mm, included in the package with a total quantity of 50 units.
This silicone gun could be the right one if you are looking for one of the cheapest and most practical, for this reason, we will explain its pros and cons before making a decision:
Compact: Its measurements are 14.6 cm x 11.5 cm x 2.7 cm, making it a compact model for children's use.
Safety: It has a safety fuse that prevents leaks.
Materials: It is made of plastic and aluminum and its tip is made of copper for greater resistance.
Coating: Some users indicate that they can feel the heat in the hand when using it, due to the fact that this gun does not have a protective coating.
3. silicone gun for crafts
If you are still wondering which is the best silicone gun, you should know that this one has a T-shaped design and has an ergonomic handle for greater grip, thus giving you balance and total control of movements.
It includes 18 bars of 7 mm diameter, among which you can find 6 transparent and 12 of various colors, such as pink, yellow, black, blue, green, and red, so it is designed as a glue gun for crafts and projects. creative, involving decorative objects and attractive works.
The transparent bars are high and low temperature, in addition, the tool has two heat levels, thus offering versatility to be adapted to the thermoformability of materials, whether you use it on stone, wood, cardboard, or fabric, among others.
If you want a silicone gun that offers comfort for creative activities, it is convenient that you review the outstanding aspects of this model in advance:
Design: It has a T-shaped design, with an ergonomic handle and a protective cover on the nozzle to prevent dripping.
Adjustable: It offers a switch that allows you to choose a temperature between 105 and 165 °C.
Accessories: It has 3 low-temperature silicone bars, 3 high-temperature silicone bars, and 12 bars of assorted colors for greater versatility.
Support: Some users indicate that the support to place the gun may not be entirely effective.
4.Arfbear 50W Glue Gun
It is a tool made with high-quality standards since it has an anti-heat coating to protect against high temperatures while providing a comfortable and secure grip. Likewise, it heats in a time of 3 and 5 minutes and, after reaching the maximum level, it keeps it constant for greater efficiency.
This is considered by many to be the best value for money hot glue gun as it does not cost a lot of money and comes in a pack of 50 hot glue sticks 7mm in diameter and 15cm in length. As if that were not enough, they come in different colors and have a good level of purity and viscosity, so they are useful for use on plastics, metals, pieces of wood, ceramics, and glass, among other materials.
Reading Suggestions: 10 Creative And Practical Uses For A Silicon Or Glue Gun
This craft glue gun incorporates an on/off switch, controlled flow trigger, and a foldable stand, able to keep the gun stable and prevent leaking glue.
If you are a fan of DIY tasks and you like decoration projects, then you should look for a quality tool, in this sense, it is convenient that you know in more detail the positive and negative characteristics of this model:
Heating: It can maintain a constant temperature after reaching the maximum heat level at 50W power. In addition, it has a fast heating system, in just 3 or 5 minutes.
Protection: It offers an anti-heat coating, so it does not heat your hand.
Precision: It has a controllable flow nozzle to prevent glue loss.
Bars: It only comes with high-temperature bars, so if you need low-temperature bars, you must purchase them separately.
5. Professional silicone gun
It is a professional hot glue gun that offers up to 100W of power, which in turn produces between 256 and 392°C, making it suitable for use with high-temperature sticks. In this sense, you should know that it includes 20 pieces of silicone with a diameter of 11 mm and a length of 20 cm, which gives you sufficient quantity and quality for DIY projects and jobs that require daily use.
This tool is made of plastic and aluminum, which provides greater durability, however, its body and nozzle are covered with non-slip rubber, thus, it is capable of protecting against burns and excessive heat.
It has stainless materials, for greater resistance to corrosion. In addition, it offers a power indicator, ergonomic trigger, and easy rod entry, among other benefits. As if that were not enough, it has ventilation openings, adequate to avoid overheating.
If you still don't know which silicone gun to buy, this model is professional, so it might be convenient to know its pros and cons before making the purchase:
Power: Offers 100 W of power with temperatures between 256 and 392 ° C.
Bars: Includes 20 thick bars for DIY work, with a diameter of 11 mm and a length of 20 cm.
Materials: It is made of plastic and aluminum and the nozzle is made of copper, in addition, both are covered with rubber for greater safety.
Usage: A user has reported discomfort when having to push the silicone with another bar so that the first one is completely consumed. However, this is a common behavior in these products.
Frequently asked questions
Q1: What things can you do with a glue gun?
The glue gun is very useful for craft projects, but also for homework, for example, to properly seal windows and prevent cracks in the edges. In addition, it allows you to upholster surfaces and objects, be it a table, walls or furniture using different materials.
When you want to place a painting or photograph on your walls and you don't want to use nails, you can also use a bit of silicone to adhere both materials, in the same way, you will have the possibility of fixing objects on the floor to make them non-slip. On the other hand, many use silicone guns to carry out electrical installations, such as hiding the cables in the walls and installing lights on the edges of them.
Q2: How to open a glue gun?
It is recommended that to open one of these tools you have some knowledge regarding its operation since it could become unusable with any wrong movement, so it is better to avoid it unless it requires cleaning or repair. In this case, you must start by removing the screws at each end of its casing, then it is important to remove the plastic or metal support to prevent its deformation.
The next step is to slowly and forcefully separate the two pieces that make up the gun casing. Once opened, all the pieces should be in one of the parts of the case, including the power cable.
Q3: How to take out a silicone bar from the gun?
Many people are hesitant to remove a silicone bar that has already started its melting process, and they are right. You should know that the resistance has a compartment where it stores the silicone that it melts, which leaves it ready to pull the trigger and expel.
For this reason, it is not recommended to remove the silicone while it is melting, since it could cause internal obstructions that affect the operation of the gun. In such a case, the most appropriate thing is that you spend the bar in its entirety, however, if you need to take it out urgently, it is necessary to wait for the gun to cool down between 5 and 10 minutes to reduce the damage inside when withdrawing it.
Q4: How to apply silicone with the gun?
It is necessary to complete the recommended heating time according to the gun model, otherwise, the silicone may not have the proper consistency when it comes out, and consequently, it may dry faster than expected. Also, it is important not to press the trigger repeatedly when the silicone does not come out since this is because it has not completely melted inside.
There is a technique to avoid silicone threads, which is to make some short circular movements before removing them from the surface that you glued, this way you cool the area and you can cleanly cut the silicone.
Q5: How to unclog a glue gun?
Usually, the blockage occurs in one of the parts before the heating element, so it is possible to unclog the gun easily. In principle, all the screws that join the casing must be removed very carefully.
Once this is done, it is important to remember the position of each piece and each circuit, since they must be in the same place when you do the sealing again. Then, using eyebrow tweezers or the like, insert them into the silicone duct and carefully pull out the piece that is obstructing the path of the other bars.
Q6:How to use a glue gun
The main function of silicone guns is to expel molten glue for fast drying and permanent bonding. However, for greater effectiveness it is necessary to know how to use them, so we have prepared an article that will allow you to get the most out of this tool.
Choose the silicone bar according to the gun
You should know that not all silicone rods work for all types of guns, the most popular ones receive 7mm and 11mm rods.
However, you should also consider the use of each one, for example, the transparent sticks are intended to be used as adhesives on plastics and ceramics. Likewise, the brown or yellow ones are special for wood, the white ones are used as glue on fabric, cardboard, or leather surfaces and those that offer different colors are appropriate for any type of craft task.
Insert the bar into the gun
Once you define your needs it is time to insert the bar into the gun. The design of these tools has a hole in the upper rear part of the handle, through which you must insert the silicone bar slowly and firmly. It will go through a long conduit until it reaches the heating system.
Once it reaches this point, you should not manually push the silicone bar again, either forwards or backward, as it could melt incorrectly and block the passage for the next bars.
Activate the heating process
Traditional silicone guns usually have a cable in the lower part of the handle that is directly connected to the current, once it is plugged in, the transmission of energy to the gun will begin, which will later be converted into heat to melt the silicone. It is possible that some models have a switch to start the transmission of heat after connecting it,
as well as switches with two options to choose the temperature level, there are even wireless models, which only need to be charged and move the switch from off to switch on. It is necessary that before pulling the trigger you let the gun heat up properly, since otherwise, the melted silicone may not have the appropriate effectiveness or viscosity.
pull the trigger
Guns usually have an ergonomic grip to hold the gun comfortably, so you just have to position your fingers on the trigger and press lightly. If you press and no silicone comes out, you should not despair, as this may be because the heating process has not finished. On the other hand, when gluing two surfaces
it is important that you do not overload the area with silicone too much, since when joining the parts it could spill and have an unwanted finish. To glue carpets, ceramics, wood, and large surfaces, it is recommended that you quickly make a thin line of silicone near the edges, in this way the sealing will be uniform. In addition, to avoid silicone threads, some users recommend letting it cool down and removing the gun for a cleaner cut.