Mini Ovens – Opinions 2022
Mini ovens are quite useful appliances to prepare dishes quickly. In addition, they usually have compact sizes that allow them to be accommodated without taking up much space or also to store them. If you are interested in acquiring one of these for your kitchen, we invite you to consider the following models available on the market:
1. Ram Mini Ovens 979 18 Liters
979 is the model of electric mini ovens from the Ariete brand that, in addition to presenting vintage and classic design, is also practical and comfortable to use at home.
This mini oven has a size of 47.5 x 40 x 24.5 centimeters and weighs 6.5 kilograms. It has support feet to raise it from the counter and its casing is made of plastic.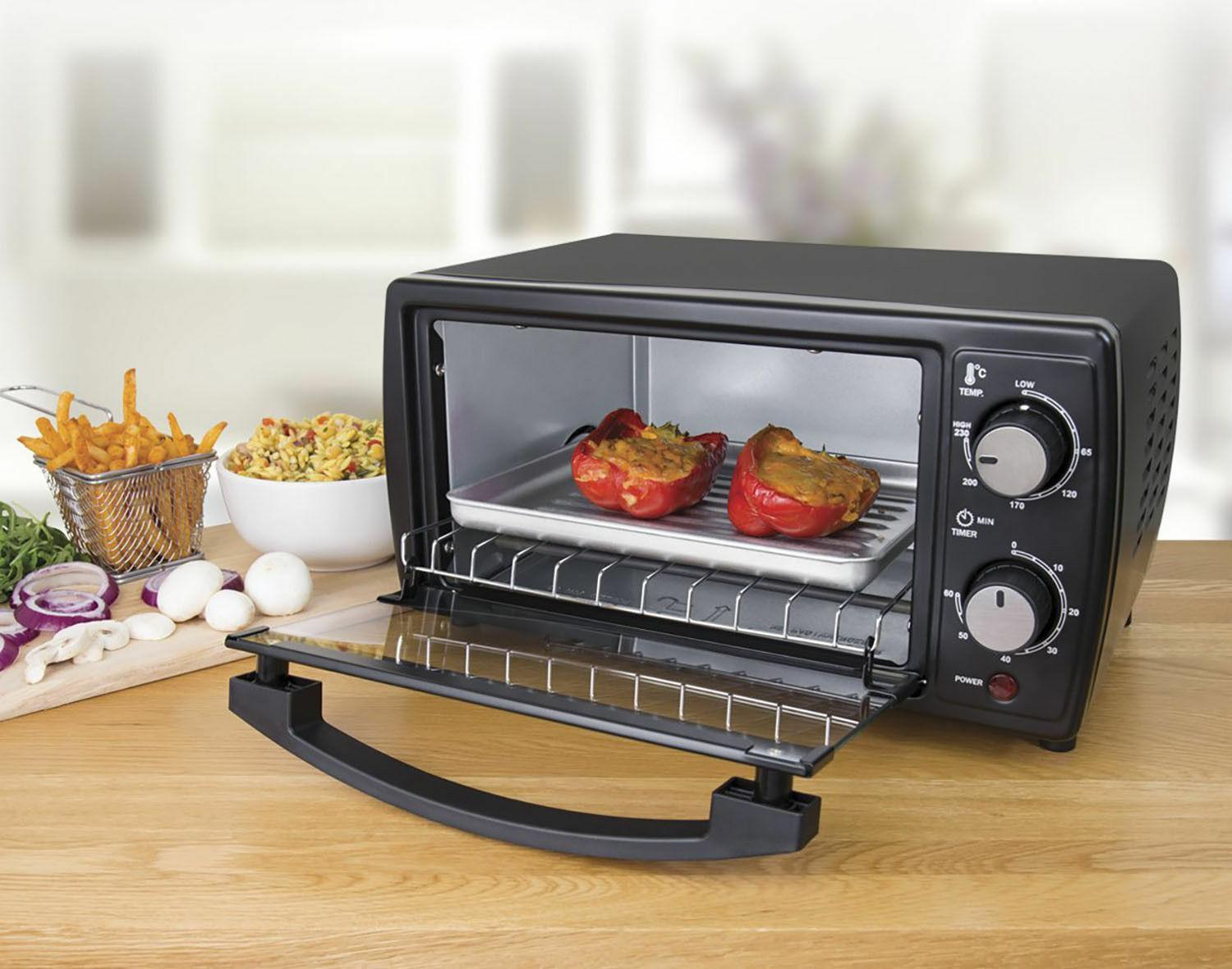 Aesthetically, the equipment has a vintage style that you can buy in a combination of blue, beige, or green with white colors as you prefer. It also has a door with a handle and a tempered glass window to avoid problems with internal heat.
As for its capacity, it can hold up to 18 liters and has a power of 1,380W, which you can regulate with its rotary buttons according to the desired time, temperature or the function to be performed.
Since this equipment could be the best mini oven of the moment, now you will know better its pros and cons:
Design: The most remarkable thing about this model is its design since it is striking, different, and very stylish.
Power: It offers a power of 1,380W with which you can quickly roast or toast your food.
Settings: It has mechanisms to adjust the temperature, cooking time, and ignition zone.
Capacity: The 18-liter capacity of this mini oven will allow you to prepare food for yourself and a guest.
Light: It does not have an internal light, so to check the status of the food, you must open the door.
2. Severin To 2060 Toaster Oven
It has a size of 44 x 39.5 x 29.2 centimeters so you can fit it in any corner of your countertop. In addition, its weight is 6.15 kilograms, which will help you move it or store it if you will not use it daily.
On the other hand, the Severin mini electric oven has a power that reaches 1,500W, offering a temperature that ranges from 100 °C to 230 °C adjustable thanks to the rotary buttons. These, in turn, will allow you to choose the mode of ignition of the resistances depending on the type of food.
As for the accessories, this model has a baking tray and a grill rack, which will be very useful to take advantage of the mini oven.
Severin could one day become the best brand of mini ovens, so we invite you to evaluate this option:
Design: This mini oven has a modern design and good manufacturing materials, such as stainless steel and plastic.
Capacity: It has a capacity of 20 liters, more than enough if you want to toast bread for breakfast.
Door: Its door is hinged and has both a handle and a window, allowing you to see the interior of the mini oven.
Feet: It has 4 feet on its base covered with non-slip rubber for greater stability.
Spare parts: Spare parts and accessories for this model are difficult to find in the market.
3. TM Electron TMPHO001WH Mini Toaster Oven
If you are looking for a good model of a mini toaster oven, we advise you to take a look at this product from the TM Electron brand, which, in addition to being among the cheapest, also offers practical functions.
Reading Suggestions: Meat Dishes From The Microwave
The TMPHO001WH mini oven stands out for being compact. Its dimensions are 36 x 27 x 20 centimeters with a weight of 3.9 kilograms, taking up less space on your counter than other models mentioned. Aesthetically it is simple and can be purchased in two different colors depending on availability: white or black.
As for its performance, the mini oven has a capacity of 10 liters and a power of 800W, so it is recommended for personal use or for couples. It offers 3 cooking modes and has quartz resistances, which offer a long useful life so you can enjoy the equipment for a long time.
If you still don't know which mini oven to buy, you can consider the advantages of this TM Electron option:
Compact: This model has compact dimensions that will allow you to easily accommodate it in your kitchen.
Temperature: It can reach a maximum temperature of 230 °C, enough to prepare all kinds of recipes.
Timer: It has a 60-minute timer and audible alarm that you can adjust according to your needs.
Accessories: The purchase includes a tray in which you can bake and a chrome rack.
Heating elements: Be careful not to place the tray too close to the heating elements, as they can burn the food.
4. Taurus Horizon 9 Electric mini Ovens 800W Steel
From the Taurus brand, we present you with a piece of equipment that could be the best mini oven for some netizens, thanks to the fact that it has a robust construction made of steel, which makes it quite resistant to wear.
The Taurus mini toaster oven specifically employs 18/10 steel in the casing of its 9-liter capacity frame, which is 40.8 x 28.8 x 24 centimeters in size and weighs 3.05 kilograms.
Evaluating its functions, you will find that you can choose between 3 cooking modes: traditional, inferior, or gratin, as well as which areas of the mini oven to turn on to apply heat from a certain direction towards the food.
Its power, on the other hand, is 800W for a temperature of up to 230 °C, making it a comfortable and practical tool to use in the kitchen as it gives you the possibility of preparing a wide variety of dishes.
If you want to know more details about this mini oven, then you will see its advantages and disadvantages:
Materials: The Taurus mini oven is made of stainless steel, offering robustness for daily use.
Lightweight: It weighs just over 3 kilograms, so you can move it easily.
Cooking: The oven system allows you to choose between 3 cooking modes for your food.
Efficiency: Its energy administration gives it the A++ category so as not to cause excessive expenses.
Hot: The exterior walls of the mini oven can get very hot during use, so be careful.
Frequently asked questions
Q1: How to use mini ovens?
Using a mini oven is relatively simple if it offers an intuitive control panel since its operation does not require more settings than simply switching on and adjusting the temperature.
In most recipes, the mini oven needs to be at a certain temperature before putting the ingredients to cook, so you must turn on your oven by pressing the corresponding button and then choose the recommended temperature using the selector or the rotary button depending on your model.
Open the door of the mini oven to introduce the plate or tray that will contain the food and proceed to close it carefully. If possible, activate the timer so that you can better control the cooking process.
In the end, remember to clean your mini oven of any remaining food that may have remained. Of course, do not forget to wait a reasonable time for it to cool completely before starting to clean it.
Q2: What can be cooked in electric Mini ovens?
Since a mini electric oven can offer practically the same cooking capacity in terms of temperature as a normal kitchen oven, this variety of recipes is based more on the size of the equipment.
In addition, taking into account the capacity that these types of appliances usually have, it could be said that the most practical and common recipes to prepare in it are, for example, those of brownies, bread, cookies, cakes, and baked vegetables, among many others. plus.
As you can see, thanks to the functions and power of some models of mini ovens, the variety of recipes that can be prepared in it will only be affected by how big it is and how much capacity it has in liters.
Q3: How to make bread in mini ovens?
To make homemade bread you will need 1 ½ cup of water, 700 grams of flour, 20 grams of dry yeast, 2 teaspoons of salt, and a little sugar, although the exact amount will depend on how much bread you want to make in your mini oven, as well as the size of the mold you are going to use.
Prepare a table by cleaning it and spreading a little flour on its surface before placing the flour on top along with the yeast and other ingredients to mix directly with your hands. Then, create a pile with a hole in the middle to add the water little by little and knead until you get a homogeneous mixture that does not stick to your hands.
Let it rest in a sealed bowl for an hour and turn on your electric oven to about 250 °C. While it reaches the temperature, knead a little and place the mixture inside the mold. Then, open the oven door and put the mold inside. Close it and wait approximately 30 minutes before turning off the equipment and taking out your freshly made bread at home.
Q4: How to clean mini ovens?
A very practical method to clean a mini oven is to use baking soda paste.
To do this, first, unplug the appliance from the power supply and mix several tablespoons of baking soda with water in a bowl until you create a paste thick enough to spread around the interior of the mini oven.
Let it sit for 15 minutes and proceed to remove it with a dry cloth to remove the stuck dirt and leave your mini oven as new.
Q5: Where should I put the mini ovens?
One of the advantages offered by a mini oven compared to a conventional model is precisely the freedom of location. Taking into account the standard design of this type of equipment, you can easily accommodate any on your countertop and there will be no problem if you want to place another appliance nearby, such as the microwave. Of course, you must take care that it maintains a space large enough so that the air can circulate freely.
Q6: How many guests can you cook in mini ovens?
Mini ovens have precisely that as a particularity: their compact size. Due to this, most of the models that can be classified as minis are those that do not exceed 20 liters of capacity and the food can be prepared for a maximum of 2 or 3 people at the same time.